Report: Mariners scout heckles Jesus Montero in minors
Mariners farmhand Jesus Montero has been a bust for the organization, but a scout heckling him and sending him an ice cream sandwich during a game seems a bit much. The scout, Butch Baccala, in in trouble.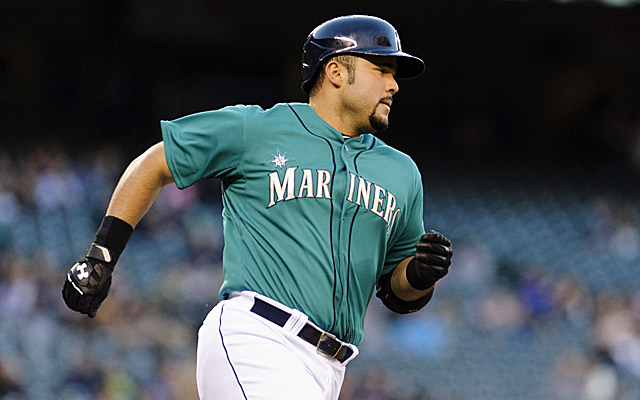 UPDATE, 11:03 a.m. PT:
The scout in question here is Butch Baccala, and here's some information from seattletimes.com's Geoff Baker (definitely click through for the full story):
Baccala at first denied the ice-cream sandwich story, then said he couldn't comment on it one way or the other. He suggested a reporter check whether they even sell ice-cream sandwiches at Memorial Stadium in Boise, where the game was played.

Todd Rahr, president and general manager of the Boise Hawks, who oversees operations at the stadium, confirmed that ice cream sandwiches are sold there during games. Rarh added that "out of respect to the Mariners organization'' he was referring all other questions about the incident to them.
Should the facts of the case turn out to be what originally reports, sources indicate Baccala would be in trouble.
Original story:
Mariners catcher Jesus Montero has been bad news for the Seattle Mariners. He hasn't performed well on the field, he was suspended for ties to the Biogenesis scandal and showed up overweight for camp this year. Not only that, but he admitted that he didn't even care to stay in shape during the offseason.
And yet, I'm about to defend him -- sort of.
Per MiLB.com, a Mariners scout (cross-checker) was heckling Montero from the crowd during an Everett Aqua Sox game (Montero's on a rehab assignment). And then ...
According to a game offical, the cross-checker then ordered an ice cream sandwich and had it sent to Montero in the dugout, escalating the confrontation further. The official said Montero -- who arrived at Mariners Spring Training 40 pounds overweight this season -- approached the stands with a bat while screaming profanities and threw the sandwich at the cross-checker. Montero had to be pulled back from the stands by Everett pitching coach Nasusel Cabrera, Safford said.
OK, so here's why I only said I'm going to "sort of" defend Montero. Taking a bat toward someone in the stands and screaming obscenities in his direction is bad. Real bad.
Then again, I can't even fathom how unprofessional it is for a member of the Mariners scouting department to send an ice cream sandwich to the dugout. If a fan does that, I would see it as a funny prank. In fact, I probably would have laughed and posted about how funny said fan was. But this is a scout employed by the organization. Get out of here with that nonsense. If Montero is so worthy of the organization's disdain, just get rid of him.
Mariners general manager Jack Zduriencik has said the following: "We are in the process of gathering facts and information. Once all of the information is compiled, we will then proceed appropriately and accordingly."
Honestly, if the MiLB.com report is true, this seems like it's probably a fireable offense for the scout and the organization should probably consider cutting ties with Montero, too.
The results of the BBWAA Hall of Fame vote are revealed Wednesday, Jan. 24

Does the Jackson signing mean the Giants are out on Lorenzo Cain?

Acuna edged out Shohei Ohtani and Vladimir Guerrero Jr.
There's no reason to run over the cases for and against Bonds, so let's have fun instead

The coveted right-hander would certainly be a fit in Milwaukee

We rate the best mustaches from random baseball cards because, why not?