Report: Marlins have interest in Phil Hughes and Dioner Navarro
The Marlins are looking to add some veteran stopgaps to their roster and have interest in both Phil Hughes and Dioner Navarro, according to the Miami Herald.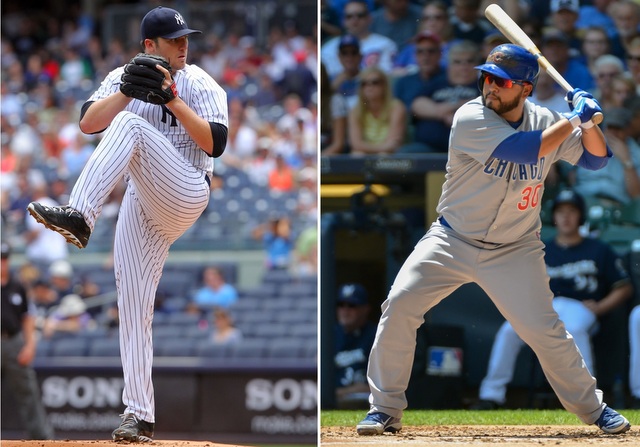 The Marlins do not figure to be a major factor in the free agent market this winter, but they could be a popular destination for players looking to rebuild value following down years. The club has a laundry list of needs and playing time should be plentiful.
According to Barry Jackson of the Miami Herald, the Marlins have recently shown interest in both right-hander Phil Hughes and catcher Dioner Navarro. In addition to being former top prospects with the Yankees, both free agents figure to command short-term contracts at this point of their careers.
Hughes, 27, went 4-14 with a 5.19 ERA (78 ERA+) in 145 2/3 innings for New York last season. He is (by far) the youngest starting pitcher on the free agent market and went 16-13 with 4.23 ERA (100 ERA+) just last season. Hughes could take a one-year contract, spend the season in a huge NL ballpark, then go back out on the market as a 28-year-old looking for a multiyear deal. Makes a lot of sense for him.
The 29-year-old Navarro rebuilt his value last season by hitting .300/.365/.492 (132 OPS+) with a career-high 13 home runs in 266 plate appearances for the Cubs. He could be looking to score a multiyear contract right now rather than take a one-year deal and hope to have an even better season. Navarro, who spent most of 2010-12 either hurt or in the minors, could seek the biggest payday regardless of team.
The Marlins have openings at second and third bases, in center field, behind the plate and in both the rotation and bullpen. Veteran stopgaps who could be flipped for prospects at the trade deadline -- like Hughes and Navarro -- make the most sense for them right now.
Neither Josh Donaldson nor Brian Dozier have talked about a new contract extension

Francisco leads the Dominican Winter League with seven home runs

Thome deserves enshrinement and here's why the case against him does not hold up
The Twins have already fortified the bullpen with Addison Reed, and now they want to address...

The Orioles likely want pitching, and the Indians have plenty of it

Halladay died in a November plane crash off the coast of Florida