Report: Marlins in legal battle with NFL player over concession stand
New Orleans Saints linebacker Jonathan Vilma has suited the Marlins over the management of his concession stand at the team's ballpark.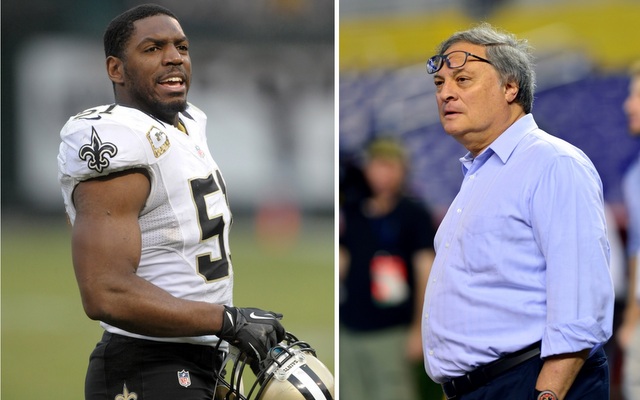 More MLB: Scoreboard | Standings | Probable Pitchers | Sortable Stats | Odds
New Orleans Saints linebacker and Miami native Jonathan Vilma is currently in a legal battle with the Marlins over the team's management of his concession stand, reports Brian Hamacher of NBC Miami. Vilma co-owns a Brother Jimmy's BBQ franchise and had a stand at Marlins Park.
According to Hamacher, the two sides have exchanged lawsuits regarding their sponsorship agreement. The Marlins claim Brother Jimmy's failed to pay $75,000 in fees and failed to give 60 days notice when terminating their agreement.
"Brother Jimmy's failure to pay the 2012 and 2013 Sponsorship Fee is a material breach of the Sponsorship agreement," says the lawsuit filed by the Marlins. "Brother Jimmy's has been unjustly enriched at the expense of the Marlins."
Brother Jimmy's claims to have never reached an official sponsorship agreement with the team, but did allow the Marlins to sell and prepare food at a discount using their name. They also claim the operation had to be shut down because it was run so poorly, hurting the Brother Jimmy's brand.
"We did voice our concerns and we actually personally went there, we went to the games and we wouldn't let them know who we were, we'd go and taste our own food and we'd tell them look, 'this food is not to our standards,'" said Vilma during a recent radio interview. "It hurts us as a business because if for the first time a fan goes to Marlins stadium, they taste Brother Jimmy's, they say 'this food is terrible,' and all they're gonna remember is the bad food and or service that they got at the Marlins stadium and we expected better than that."
Brother Jimmy's also claims to have paid the team $25,000 in good faith despite the lack of a sponsorship agreement. Vilma says the team promised attendance at brand new Marlins Park would exceed an average of 28,000 fans per game last year, a number that was not met. He also says 40 non-baseball events that were promised were never held.
"They unfortunately sold us a dream, the attendance wasn't what they were marketing to us, it was probably a fraction of that," added Vilma. "Hopefully we'll get it rectified. As I said, it's an unfortunate situation, they oversold us, I think we all know the Marlins have been doing a good job of that the past couple years."
Brother Jimmy's is seeking the $25,000 in good faith money as well as damages. Vilma opened the franchise in Miami with fellow NFLers D.J. Williams and Jon Beason last year. Brother Jimmy's has a location in Yankee Stadium and elsewhere in New York and New Jersey.
The Nats will host the All-Star Game in 2018

The Orioles are looking to trade Machado heading into his walk year

The Cardinals have been linked for a while to the Baltimore star
Gallardo spent the first eight years of his career in Milwaukee

MLB revenues are at a record high right now, but teams aren't spending it on players

Chicago added Tyler Chatwood earlier this offseason but might not be done adding to the ro...