Report: Marlins owner Jeffrey Loria upset with Ozzie Guillen
According to a report, Marlins owner Jeffrey Loria is upset he was "called out" by manager Ozzie Guillen.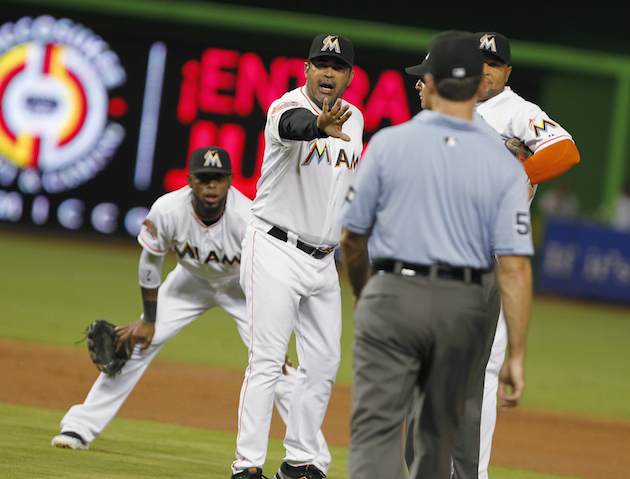 Ozzie Guillen's mouth has gotten him in trouble a time or two. (AP)
As if Ozzie Guillen weren't already on the hot seat -- and as CBSSports.com insider Jon Heyman noted, he is -- things are getting a little toastier in Miami. According to Joe Capozzi of the Palm Beach Post, Marlins owner Jeffrey Loria is not happy with Guillen for recent comments.
Citing a person "who has spoken with Marlins officials," Capozzi notes Loria is unhappy that Guillen had "called out" the owner.
Friday, Guillen said, "If Jeffrey doesn't think I'm doing the job I should do … it's not the first time he's fired a manager. Look yourself in the mirror and ask why so many (bleeping) managers come through here."
One person who may agree with Guillen might be former Marlins manager Fredi Gonzalez, now skippering division rival Atlanta.
"There's not a manager dead or alive that Jeffrey thinks is good enough," Gonzalez said, according to Barry Jackson of the Miami Herald. "Not Connie Mack, not anyone."
Gonzalez is one of five managers the Marlins have had since 2006.
"Stick with someone," Gonzalez told the Herald when asked what Loria should learn. "Give guys opportunities. But he likes to make changes. As long as he owns the team, he makes the decisions. In his mind, they're the right ones."
According to the source cited by the Post, the odds of Guillen being fired are "75-25."
For more baseball news, rumors and analysis, follow @EyeOnBaseball on Twitter, subscribe to the RSS feed and "like" us on Facebook.
Tanaka shut the Astros down in ALCS Game 5 and has overcome a down season and past injurie...

The 2017 World Series begins Oct. 24

The Yankees wouldn't chase Keuchel's bread-and-butter, those tempting pitches just at the knees...
The Yankees are now just one win away from the World Series, despite trailing this series 2-0...

It's Alex Wood against Jake Arrieta at Wrigley Field

La Russa has been with the Diamondbacks since 2014