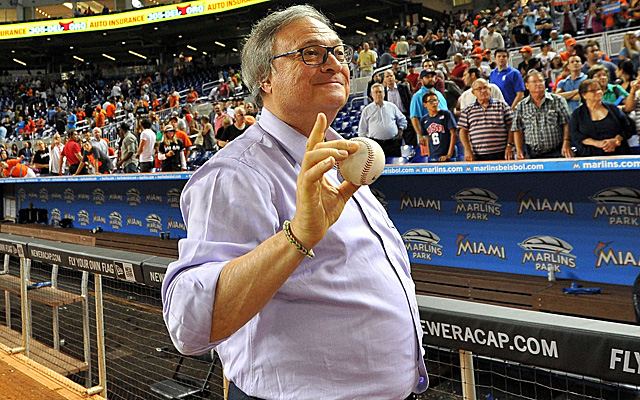 Earlier this offseason, Marlins superstar Giancarlo Stanton signed a 13-year, $325 million extension. It's a jaw-dropping figure for sure, but it could only cost the Marlins $107 million over six years. Stanton has an opt-out clause.
And, if Pirates president Frank Coonelly is telling the truth -- and he really has no reason to lie -- in this report, Snake Oil Salesman Jeffrey Loria is back at it.
When asked for his reaction to Marlins outfielder Giancarlo Stanton's 13-year, $325 million extension, president Frank Coonelly chuckled and said, "It seems like Monopoly money, doesn't it?"

Coonelly then got off his stool on the stage and stepped toward the crowd. He talked about an exchange he had with Miami Marlins owner Jeffrey Loria and president David Samson during the recent owner's meetings.

"They thought it was a great deal," Coonelly said. "I just couldn't get my head around the $325 million. They said to me, 'You don't understand. (Stanton) has an out clause after six years. Those first six years are only going to cost $107 million. After that, he'll leave and play for somebody else. So, it's not really $325 million.' "
This after the Marlins sat there throughout an entire press conference patting themselves on the back about how big a commitment this was to the Miami fans and how they believed Stanton would prove to be worth this deal. Samson in particular pontificated about how Stanton was worth this money.
Given the track record here, this sentiment shouldn't be altogether shocking. It is, however, a bit misguided from where I sit. If they're really counting on getting out of this deal, it's a huge gamble.
After six years, when Stanton is the decision-maker on whether or not to opt-out -- not the Marlins -- he'll be heading into his age-31 season. If he chooses to stick with the contract, the Marlins would owe him $218 million over the next seven seasons, going through his age-37 season. There's also a $25 million club option for 2028 with a $10 million buyout. So, at the minimum, the Marlins would be set to pay him $228 million for seven years and it could grow to eight years and $243 million.
If Stanton continues on his current path and baseball continues to be such a lucrative business -- with salaries continuing to escalate -- it's entirely possible that Stanton will opt-out and be able to make more money on the open market. We're talking about six years in the future, though. Injuries, underperformance, the local TV bubble bursting and myriad other factors could make the second "half" of the Stanton deal pretty terrible for the Marlins. If that becomes the case, Stanton will surely keep the money and the Marlins will be on the hook for it, even though it sounds like they want out.
No matter what, the Marlins get prime Stanton for six years, but the rest of this just seems shady. Considering the source, I guess we shouldn't have expected anything less.
Via: Reddit baseball