Report: Marlins unhappy with Red Sox over spring training lineup
According to one report, the Marlins are upset with the Red Sox for trotting out a lineup of scrubs for a Marlins home spring game.
MORE: Spring Training | FA tracker: position players | FA tracker: pitchers
As Juan C. Rodriguez of the South Florida Sun Sentinel writes, the Marlins opted for "super premium" ticket prices (i.e., more expensive than usual) for Thursday's Grapefruit League tilt against the Red Sox. After all, it's Florida, home to a large Red Sox-fan diaspora, and the Sox are of course the reigning champs. Well, according to Rodriguez, the Marlins are a bit unhappy with the lineup trotted out by Boston. Have a look ...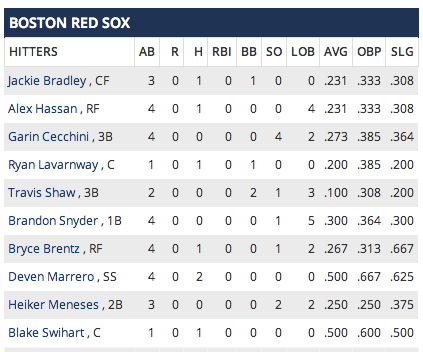 Yeah, not exactly "super premium" stuff right there. As Rodriguez notes, the most prominent member of the last year's championship squad to play in this was game was Jarrod Saltalamacchia ... of the Marlins. More from Rodriguez:
The Marlins had no comment, but a source said team executives were "outraged" and planned to contact the league office. A league spokesperson said tthe matter would be reviewed.

Major League Baseball has specific guidelines about Grapefruit and Cactus League lineups. Its 2014 regulations state teams should field: "A minimum of four players who are regulars on the previous year's major league team or who were platooned on the previous year's major league team on a regular basis, or who have a reasonable chance to be regulars on the major league club's squad during the upcoming season. Each of those regulars, excluding pitchers, must play a minimum of three complete innings."
Best of all: The game ended in a scoreless tie!
In a technical sense, the Marlins have a beef, as just Jackie Bradley and Ryan Lavarnaway have any MLB experience at all. With that said, the Marlins under Jeffrey Loria don't exactly cut a sympathetic figure when it comes to matters of giving fans value on the dollar. 
Developing!
Dioner Navarro still hopes to return someday

Christian Yelich's agent says his client's relationship with Marlins is 'irretrievably bro...

The free-agent market has been slow and one player is bracing for an even longer wait
The Mets didn't want to trade a young outfielder for an older one

Josh Harrison doesn't sound pleased Gerrit Cole and Andrew McCutchen have been traded away

The team's media contracts expire following the 2019 season