Report: Masahiro Tanaka derby down to five teams
According to one report, one of five teams will likely be the one to sign coveted Japanese right-hander Masahiro Tanaka.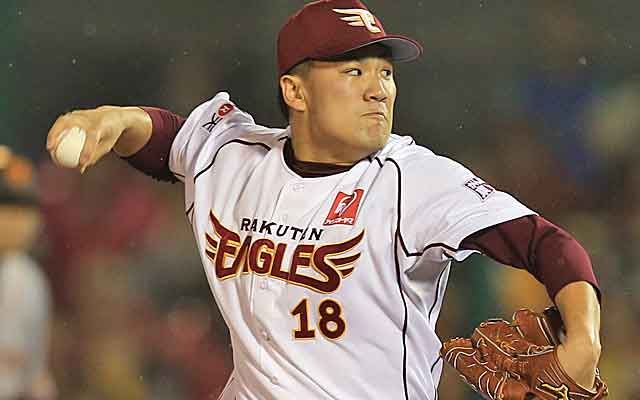 MORE: Tanaka vs. past NPB exports
As the Masahiro Tanaka free agency saga reaches the end-game stages (the deadline for him to make a decision is this Friday), five teams have reportedly emerged as the strongest candidates to sign the coveted Japanese right-hander. MLB.com's Joey Nowak writes that the Yankees, Dodgers, Cubs, White Sox and Diamondbacks are regarded as the leading suitors at this late hour. 
The implication is that previously named hopefuls like the Astros, Mariners and Angels aren't presently in the running for Tanaka's services. Also of note is that CBSSports.com's Jon Heyman back on Jan. 9 named those same Yankees, Dodgers, Cubs, White Sox and Diamondbacks as the biggest players for Tanaka. 
As for Tanaka himself, the 25-year-old is coming off a 2013 season with the Rakuten Golden Eagles in which he went 24-0 with a 1.27 ERA and struck out 182 batters in 212 innings. In addition to the $20 million posting fee owed to Rakuten, Tanaka is expected to fetch a contract that pays him around $20-25 million per over at least six years. 
Puig has a healthy relationship with his club of choice and gave the quote of the night

The Dodgers are back in the World Series thanks to a smartly built roster, analytics and m...

Seager missed the NLCS with a back injury
The Cubs foundation is still strong, but Theo Epstein and company have work to do

Turner and Taylor are the third set of co-MVPs in LCS history

Stylistically, the Dodgers seem to match up better against the Yankees and here is why