Report: Mavericks waive Rashard Lewis after knee injury
The Mavericks have reportedly waived Rashard Lewis less than a week after signing him after a knee injury was discovered.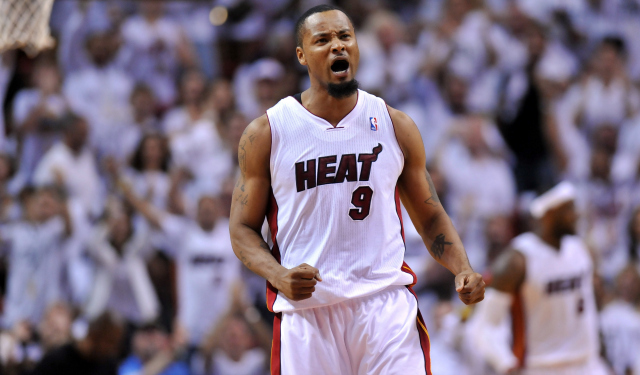 Offseason: Free Agency | Latest from Ken Berger | Rumors
The Mavericks signed Rashard Lewis last week to give them another veteran stretch four on the roster. Yahoo Sports reported Tuesday night that Lewis had suffered a knee injury that would require surgery. 
New Dallas Mavericks forward Rashard Lewis will soon undergo right knee surgery, his agent told Yahoo Sports.

The Mavericks announced the signing of Lewis on July 19 after he agreed to a one-year contract paying the veteran's minimum. Lewis' agent Colin Bryant said it's uncertain how long Lewis will be sidelined. Lewis' knee injury was discovered during a physical for the Mavericks.

"Rashard discovered he needs a medical procedure on his right knee to ensure he functions at a high level this season," Bryant said. "We look forward to [Lewis] getting this behind him as soon as possible so he can continue his stellar NBA career."
via Rashard Lewis needs surgery; future with Mavs unclear - Yahoo Sports.
On Wednesday, the Mavericks released a statement about Lewis and Yahoo reported the Mavericks had waived his contract. 
"It came to our attention during Rashard Lewis's physical that he is in need of a medical procedure on his right knee," President of Basketball Operations Donnie Nelson said. "We wish him all the best for a speedy recovery and continued success in his remarkable career."
The Mavericks have voided forward Rashard Lewis' one-year contract after finding out he needed knee surgery in his physical, a source said.

— Marc J. Spears (@SpearsNBAYahoo) July 23, 2014
It's the second year in a row that the Mavericks have signed a player and then waived him until after his injury healed (if they add Lewis later) after Devin Harris signed with Dallas last summer before a foot injury was discovered. The Mavericks eventually signed Harris to a one-year deal and then re-signed him this summer.
Lewis, though, turns 35 this month. He's had a hard time staying on the floor the last few seasons and his struggles for the Heat despite a big role played a large role in their fall in the Finals. This may not be the end for Lewis' career, but it's not a good sign. 
Neither Josh Donaldson nor Brian Dozier have talked about a new contract extension

Francisco leads the Dominican Winter League with seven home runs

Thome deserves enshrinement and here's why the case against him does not hold up
The Twins have already fortified the bullpen with Addison Reed, and now they want to address...

The Orioles likely want pitching, and the Indians have plenty of it

Halladay died in a November plane crash off the coast of Florida