Report: Mets 'heavily involved' with Bronson Arroyo, will meet next week
Mets GM Sandy Alderson will meet with free agent righty Bronson Arroyo next week as the team looks to add a veteran arm to its rotation.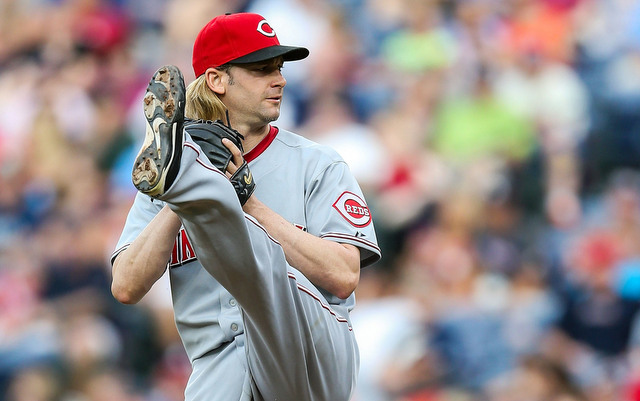 The Mets are "heavily involved" in talks with Bronson Arroyo, reports Chris Cotillo of MLB Daily Dish. GM Sandy Alderson confirmed to Adam Rubin of ESPN New York that he will meet with the free agent right-hander at his Florida home this coming week.
Arroyo, 36, is said to be seeking a multiyear contract worth upwards of $14 million per year. Even though the hefty contracts of both Jason Bay and Johan Santana expired, the Mets came into the winter with only $25 million or so to spend this offseason. A little more than $7 million of that $25 million has already gone to Chris Young.
Although Matt Harvey is slated to miss the entire 2013 season following Tommy John surgery, the Mets still have a solid rotation built around Jon Niese, Dillon Gee and Zack Wheeler. Jenrry Mejia, Rafael Montero and Carlos Torres are among the internal options for the back of the rotation. Arroyo would give the team a veteran innings-eater to help lighten the load on the youngsters.
In 32 starts this past season, Arroyo went 14-12 with a 3.79 ERA (101 ERA+) in 202 innings. He's been one of the game's premier workhorses over the last decade, making at least 32 starts and throwing at least 199 innings every year since 2005. CC Sabathia and Mark Buehrle are the only other pitchers in baseball to throw at least 180 innings in each of the last nine seasons.
According to Rubin, Sanderson has met with only two other free agents this winter: Young and Jhonny Peralta. Even with Young on board, the Mets still could use upgrades in left field, at shortstop, and in the bullpen. If they only have another $18 or so million available this winter, spending upwards of $14 million on Arroyo might not be the best move given their other needs.
Then again, three trades in four days might be behind Jerry Dipoto's usual pace

Ohtani is arguably the best hitter and pitcher in Japan

The O's need rotation help, and Cobb is available for hire
The Red Sox and Cardinals are expected to make trade offers next

The free agent first baseman may be a fit in St. Louis

The front office changes in Atlanta continue