Report: Mets shutting Matt Harvey down for rest of the year
The Mets are shutting Matt Harvey down for the rest of the year as he rehabs from Tommy John surgery, according to the New York Daily News.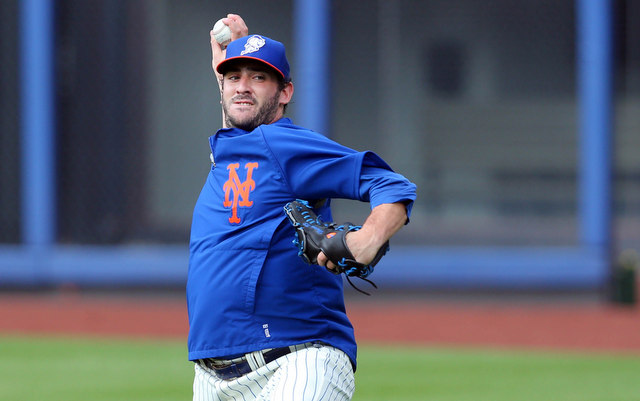 The Mets are planning to shut right-hander Matt Harvey down for the rest of the year as he continues his rehab from Tommy John surgery, according to Kristie Ackert of the New York Daily News. He will throw three more bullpen sessions before being shut down.
Here's more from Ackert:
He was expected to throw simulated innings Thursday at the Mets spring training complex in Port St. Lucie, meaning he will throw some pitches and then sit down before getting back up to throw another "inning." The Mets are also planning to bring in a radar gun in for one of Harvey's remaining sessions to check his velocity. That is in part to make sure he is not throwing at 100% velocity. He will not be allowed to do that until the spring. Before he is shutdown, Harvey, who has just thrown fastballs, will get to throw all of his pitches: fastball, curveball, slider and changeup before the offseason.
A team official told Ackert that "is the point we want him to get to and then he will stop. However long it takes for him to get there, but he will be done by the end of this month."
Harvey, 25, has insisted he would pitch late this season after having surgery last October, but that was always unlikely given the usual 12-month rehab timetable. He has not been shy about expressing his frustration with the slow rehab process either.
Ackert says Harvey will be shut down at the end of the month and not resume throwing until spring training, when he will begin a normal throwing plan. He will not face hitters until the spring. The Mets have understandably been cautious with their young ace, especially in the wake of all the second Tommy John procedures that have been needed this year.
Harvey went 9-5 with a 2.27 ERA, a 0.93 WHIP and a 6.16 K/BB in 26 starts and 178 1/3 innings last season before blowing out his elbow.
Does the Jackson signing mean the Giants are out on Lorenzo Cain?

Acuna edged out Shohei Ohtani and Vladimir Guerrero Jr.

There's no reason to run over the cases for and against Bonds, so let's have fun instead
The coveted right-hander would certainly be a fit in Milwaukee

We rate the best mustaches from random baseball cards because, why not?

Colon wants to break a Dennis Martinez record