Report: MLB may bar Tanaka from donating money to former team
MLB sounds intent on enforcing one provision of the new posting agreement that would prevent Masahiro Tanaka from giving money to Rakuten.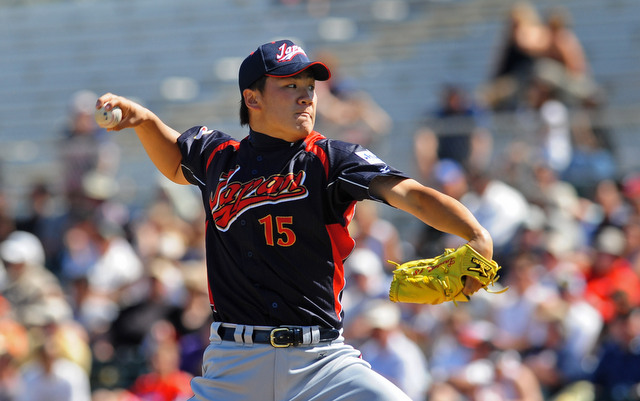 MORE: Who needs Tanaka the most?
Japanese right-hander Masahiro Tanaka intends to donate money to the Rakuten Golden Eagles, his former team, but MLB intends to prevent the newly posted pitcher from doing so, report Bill Shaikin and Dylan Hernandez of the Los Angeles Times. As they note, the newly forged posting agreement between MLB and NBP -- the one that caps posting fees at $20 million -- forbids the NPB team to receive any compensation beyond that posting fee, even if given to them directly by the player. 
Rakuten's president Yozo Tachibana recently said that Tanaka, once he signs with an MLB team, hopes to pay for some capital improvements for his old club. Regarding that, here's more from Shaikin and Hernandez:
... according to Japanese media reports, Tachibana said Tanaka told him that he wanted to "repay the team that developed me" and "cooperate and donate . . . starting with improving the environment for the players and to make sure it's the kind of stadium that can be loved by [local] fans." Sponichi, a Japanese newspaper, noted that Rakuten has spoken with local officials about the possibility of adding a dome to its stadium.
Now, none of that may happen. MLB is probably duty-bound to enforce all aspects of the posting agreement, lest other elements of it become more vulnerable to dispute or appeal. 
Some further context from Shaikin:
To all asking: Tanaka can do what he wants with his $. MLB would be concerned about any apparent circumvention of max posting fee.

— Bill Shaikin (@BillShaikin) December 28, 2013
The World Series champions aren't complacent

Stanton swiped at his old team on his way out

Your one-stop shop for all things MLB Winter Meetings-related
Matt Harvey could be on his way out of New York

The Nationals are looking to improve on the edges of their roster

Ellsbury is due at least $68 million over the next three seasons