Report: MLB, NPB agree to new free agent posting system
After much back-and-forth, MLB and Nippon Professional Baseball have a roadmap for future free agents making the leap. That includes the coveted Masahiro Tanaka.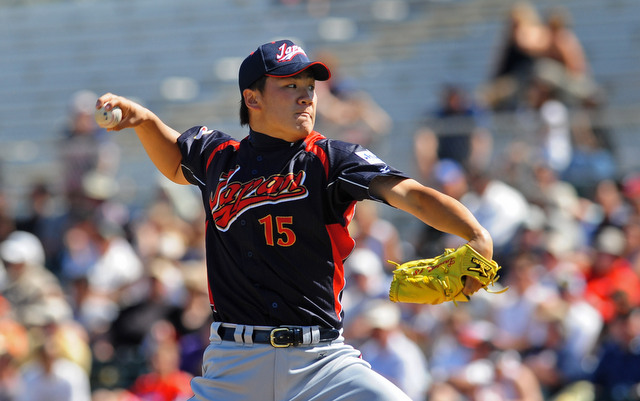 MORE: Winter Meetings updates | FA tracker: position players | FA tracker: pitchers
MLB and Nippon Professional Baseball have agreed in principle to a new posting system, reports Joel Sherman of the New York Post. As Sherman notes, the final step prior to approval is for MLB's executive council to sign off on the deal, which is expected to happen soon. 
As for the details, it's likely as expected: The NPB team posting a free agent will reportedly be able to name a posting fee up to $20 million. At that point, all interested teams will agree to the posting fee, and the free agent in question will then be allowed to negotiate with the teams that have consented to the specific fee. However, only the team that signs the free agent will owe the posting fee to the player's former NBP club. 
This new system is a win for MLB, as the old format permitted posting fees much higher than $20 million -- Yu Darvish's $51.7-million tab and Daisuke Matsuzaka's $52.1-million fee, for notable instance. 
All of this means we'll probably soon have some clarity regarding the status of coveted Japanese right-hander Masahiro Tanaka, who's generally regarded as the top potential free agent pitcher on the market. Tanaka's current team, the Rakuten Golden Eagles, have in the recent past hinted that they may consider not posting their star under the new rules, but that stance seems to have softened this week. The general feeling is that if Tanaka wishes to make the jump, then he'll be allowed to do so. 
On that front, it's worth noting that Rukuten's team president, according to Yahoo!'s Jeff Passan, is set to arrive at the Winter Meetings on Tuesday. 
The Yankees, Cubs, Mariners and Dodgers are among the teams believed to have strong interest in the 26-year-old Tanaka. 
L.A. manager Dave Roberts indicated that Puig's benching was related to more than one inci...

Manager Torey Lovullo said so on Monday

Let's see how SportsLine forecasts the race for MLB's 10 playoff spots
Monday kicks off the final week of MLB action. Let's take a look at everything that went d...

No other rookie in baseball history has hit more home runs than Judge has this year

Jays have said goodbye to Encarnacion and will to Bautista. Should they move on from Donaldson,...