Report: MLB paid for drug evidence in case against A-Rod
According to a report from the New York Post, Major League Baseball paid to recover stolen evidence against Alex Rodriguez.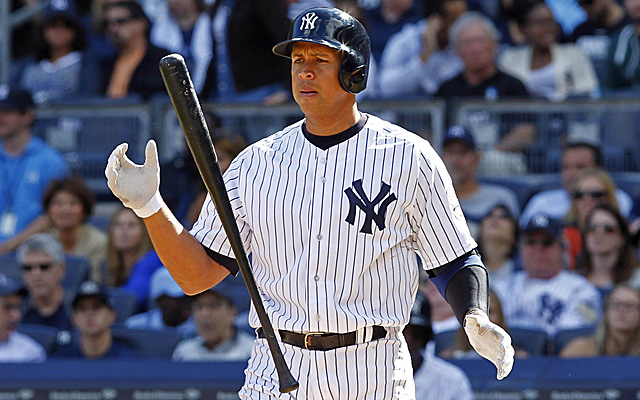 As maligned Yankees third baseman Alex Rodriguez goes through his appeal of a 211-game suspension, the New York Post is reporting something a bit interesting.
Remember that lawsuit where A-Rod's attorneys claimed Major League Baseball paid for stolen records from the South Florida Biogenesis clinic? Yeah, the Post report says that's true, but also that A-Rod himself paid for evidence -- or that he may not have.
Wait, what? It's a contradiction, but from two different sources.
According to one source familiar with the proceedings, MLB COO Rob Manfred testified on Thursday, while being cross-examined by A-Rod's attorney, Joseph Tacopina, that he authorized the payment of $125,000 in cash in return for documents from the shuttered South Florida anti-aging clinic Biogenesis.

A second source told The Post that A-Rod's side has admitted to paying for Biogenesis evidence, which would considerably boost MLB's contention Rodriguez obstructed the league's investigation.

Reached by phone on Friday evening to address his testimony, Manfred told The Post: "The fact that this player and his attorneys think it's appropriate to talk about what I testified about is not going to convince me that it's OK to violate the Basic Agreement."

Tacopina, also in a telephone interview to discuss Team A-Rod's testimony, said, "The notion that we paid any money for any Biogenesis documents is patently false, and anyone who is leaking this information knows it's false."

A third source said Team A-Rod acquired copies of the Biogenesis information only recently and not by paying for it, and that was the precise information that emerged in the hearing.
It's not surprising that A-Rod's attorney would offer up a denial, but a different source said that A-Rod's side didn't pay for documents. So ... I don't know, it's hard to tell what to trust.
Key here is to remember that back on Oct. 4, A-Rod and his team of lawyers filed a lawsuit against MLB and among the claims were that MLB paid to obtain stolen drug evidence. According to the report, that might well be true.
Rodriguez is fighting the unprecedented 211-game suspension for his alleged ties to the Biogenesis clinic while every other player connected has taken his punishment. It must be noted, however, that every other player connected was only slapped with a 50-game ban -- other than Ryan Braun, who was hit for 65 -- so Rodriguez's suspension was far and above everyone else's.
Wright was arrested at his home Friday

The former Tigers teammates were voted into Cooperstown by the 16-person Modern Era Commit...

The Yankees still have room for a good-sized signing even after Saturday's trade with Miam...
St. Louis gets some much needed help for their bullpen

Keep tabs on the top 50 free agents right here

Morrow thrived with the Dodgers last season