Report: MLB plans to sue Bosch and others connected to Biogenesis
MLB is planning to sue Anthony Bosch and others connected to the South Florida anti-aging clinic Biogenesis for their connection to players and performance-enhancing drugs.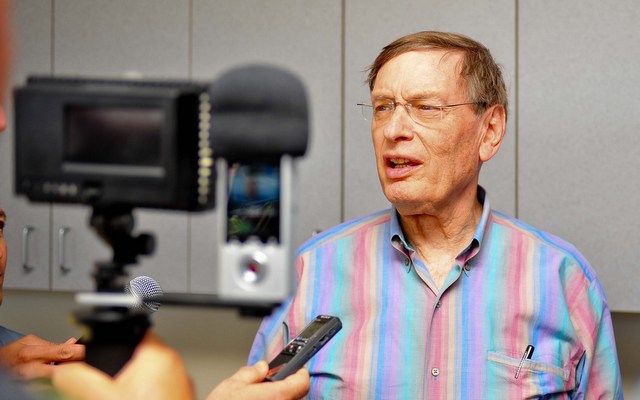 Frustrated by the lack of progress with their investigation into Anthony Bosch and Biogenesis, MLB plans to file lawsuits against a number of people connected to the South Florida anti-aging clinic, reports Michael S. Schmidt of the New York Times. MLB is investigating Bosch and Biogenesis for alleged connections to a number of star players and performance-enhancing drugs.
Schmidt says MLB is filing the suits claiming the individuals in question "damaged the sport by providing some of the game's biggest stars with performance-enhancing drugs." MLB hopes to recoup some money in the suit and basically scare some people into cooperating with the investigation. The latter seems more important than the former.
"This is a fundamental shift in dealing with performance-enhancing drug issues," said Gabe Feldman, the director of the sports law program at Tulane University, to Schmidt. "It's an attempt to attack the problem at its source, and that is something different from how the leagues have approached it until now. It's been difficult for the leagues to target the distributors because they have had no power over them."
ESPN's T.J. Quinn says MLB decided to file because it isn't getting much help from law enforcement officials. He hears it's likely Bosch destroyed any remaining documents linking players to PEDs, so there might not be anything left to subpoena should the investigation and lawsuit get that far. It's unclear how many people will be named in suit, though Schmidt says Bosch will be included.
Because players like Ryan Braun, Alex Rodriguez and Gio Gonzalez have not failed drug tests, MLB needs "documentary evidence or witness testimony" to hand down discipline. All three players were among those connected to Biogenesis in either a Miami New Times report back in January on a Yahoo Sports report in February. Minor league right-hander Cesar Carrillo was suspended after being connected to Biogenesis, but he is not part of the players union and MLB was able to discipline him unilaterally.
On Wednesday, MLB disputed reports saying Braun and A-Rod -- the two biggest names connected to Biogenesis -- were the primary targets of their investigation. All players connected to the clinic are "being investigated with equal vigor," said MLB vice president Rob Manfred.
Manager Torey Lovullo said so on Monday

Let's see how SportsLine forecasts the race for MLB's 10 playoff spots

Monday kicks off the final week of MLB action. Let's take a look at everything that went d...
No other rookie in baseball history has hit more home runs than Judge has this year

Jays have said goodbye to Encarnacion and will to Bautista. Should they move on from Donaldson,...

Judge's big September means Jose Altuve has some serious competition for the award