Report: MLB to investigate Yankees president after Mike Trout comment
Yankees team president Randy Levine is under investigation after making a comment about Angels center fielder Mike Trout on Friday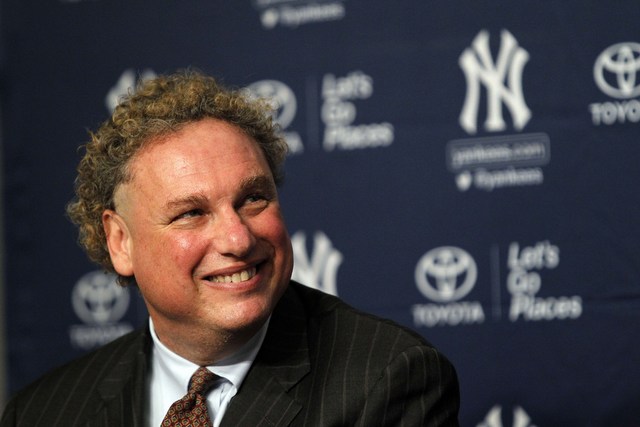 MORE: FA tracker: position players | FA tracker: pitchers | Winter Meetings updates
The Yankees introduced new center fielder Jacoby Ellsbury at a press conference Friday morning and, sure enough, one thing led to another and various team executives were asked about Robinson Cano leaving for the Mariners. It was inevitable.
During a chat with reporters, team president Randy Levine was asked about their refusal to give Cano a 10-year contract. The Yankees held the line at seven years during negotiations. Here was Levine's response to the question, courtesy of ESPN New York:
"Now, if it was Mike Trout, I'd offer him a 10-year contract," Levine said, referring to the Los Angeles Angels' 22-year-old center fielder. "But for people over 30, I don't believe it makes sense."
Makes sense, right? The Yankees have been burned badly by the Alex Rodriguez contract (which he signed at age 32) but Trout is so good and so very young that giving him 10 years seems totally reasonable.
There was a problem with Levine's answer, however. MLB doesn't like it when team executives talk about players under contract with other teams. It's actually a pretty serious offense. So much so that the league is planning to look into Levine's comment:
MLB plans to investigate #Yankees president Randy Levine's comments about #Angels Mike Trout to see if they consititute tampering.

— Bill Shaikin (@BillShaikin) December 13, 2013
I have no idea what kind of discipline can be handed down, but I would be surprised if it was something severe in this case. Levine was using Trout as an example more than anything. Maybe he will be given some kind of fine or something. I don't really know.
Either way, make sure you watch your mouth, execs. Talking about another team's player is a no-no.