Report: MLB tops $8 billion in annual revenues for first time
So MLB is looking pretty healthy these days, at least in terms of the balance sheet.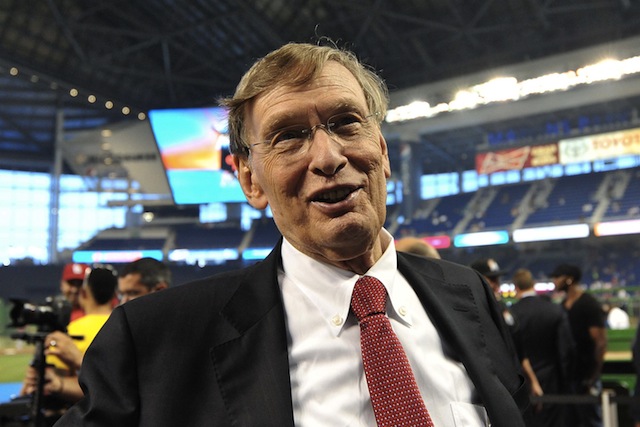 MORE: FA tracker: position players | FA tracker: pitchers
Baseball is boring. It's been supplanted in the national consciousness by football. The recent PED scandals have destroyed the faith of the ticket-buying/platform-consuming public. Baseball, you see, is dying a slow death and will soon be relegated to second-tier status on the American sports landscape. 
"Poppycock," an English lord might say. All of these lines of thinking are deeply flawed and at odds with plain reality. By any sensible measure, Major League Baseball is deliriously healthy these days, and the numbers to come prove it. 
Here are those numbers, which come to us courtesy of Maury Brown of Forbes: 
According to a source speaking on condition of anonymity, for 2013 MLB gross revenues will exceed $8 billion for the first time, ever. While exact figures were not revealed, baseball will end 2013 with revenues between $8-$8.5 billion.
As Brown notes, as recently as 1994 MLB was not even a $1.5-billion industry, so growth over the last two decades or so has been downright astounding. The incredible boom in local broadcasting rights fees and the rise of team-owned cable networks have much to do with these numbers. That trend's not going away any time soon. In fact, Brown posits that reaching the $9-billion mark next year isn't out of the question. 
But, by all means, keep on predicting the forthcoming irrelevance of this, our baseball. 
Boston wants to add two big bats to their lineup, not just one

Even more relievers signed on the final day of the Winter Meetings

Keep tabs on the top 50 free agents right here
The league is not happy Ohtani's medical information leaked

Kansas City and Baltimore were quite busy at the Rule 5 Draft

Piscotty's mother was diagnosed with ALS earlier this year