Report: Nationals-Orioles TV rights dispute getting uglier
By the sounds of things, an Orioles-Nationals fight over the right to broadcast Nats games isn't going to end amicably.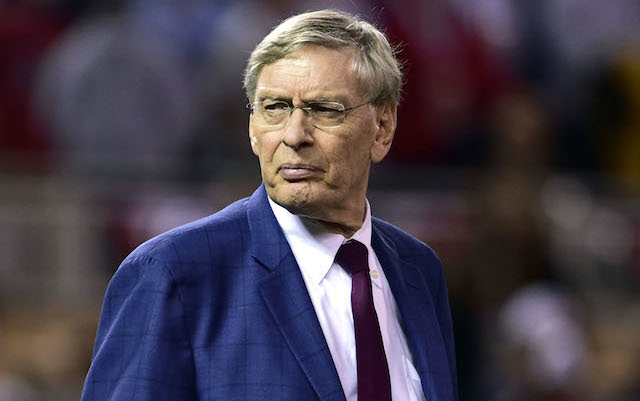 More MLB: Power Rankings | Expert Picks | Latest news & notes | Fantasy news
So Eriq Gardner of the Hollywood Reporter has some good stuff on the ongoing dispute between the Orioles and Nationals when it comes to MASN's broadcast rights of Nats games. 
First, though, some back-story ... When the Montreal Expos relocated to DC and became the Nationals before the the 2005 season, they were moving deep into the heart of the Orioles' territory. "Territorial rights" is an actual, possibly codified thing in MLB, and, for example, it's very much in play in the ongoing Giants-Athletics-San Jose kerfuffle. In this instance, the O's relented and allowed the "incursion," but they were compensated by being permitted to broadcast Nats games at below-market value on MASN, the regional carrier they -- the Orioles -- owned. 
That deal expired after the 2011 season, and the way forward for the Nats and MASN still isn't entirely clear. The agreement enjoins the Orioles/MASN to begin paying the Nats market rates for those broadcast rights, but the two sides differ on what those rates should be. Arbitration followed (binding or non-binding, depending on whom you ask) and ruled in the Nats' favor, strongly worded letters on law firm letterhead followed that, and then MLB commissioner Bud Selig got involved. Gardner writes:
What's been untold until now is that on June 30, the MLB committee adjudicating the dispute issued its decision. The award favored the Nationals. That prompted attorneys for the parties to swing into high gear and Commissioner Selig to attempt to get out in front of the situation.

"I am deeply saddened by the fact that you have not been able to resolve amicably the pending broadcast rights dispute," wrote Selig in a letter to Angelos and Nationals owner Ted Lerner, obtained by The Hollywood Reporter.

... 

I want there to be no doubt that, if any party initiates any lawsuit, or fails to act in strict compliance with the procedures set forth in the Agreement concerning the [Revenue Sharing
Definitions Committee of Major League Baseball]'s decision, I will not hesitate to impose the strongest sanctions available to me under the Major League Constitution."
That's a strongly worded threat to both sides, but mostly the Orioles, as a full reading of Gardner's excellent piece will reveal. 
Let's just say that what initially looked like three sides -- the Orioles, the Nationals and Selig -- is now materializing as two sides -- the Orioles vs. the Nats and Selig. Again, read Gardner's piece in its entirety because there's much more to the story. The guess here is that, contrary to Selig's wishes, this ends up deep within the court system.