Report: Nats looking for pitching, but they need more help than that
The Nationals are looking for pitching help according to New York's Daily News, but their concerns extend beyond the pitching staff.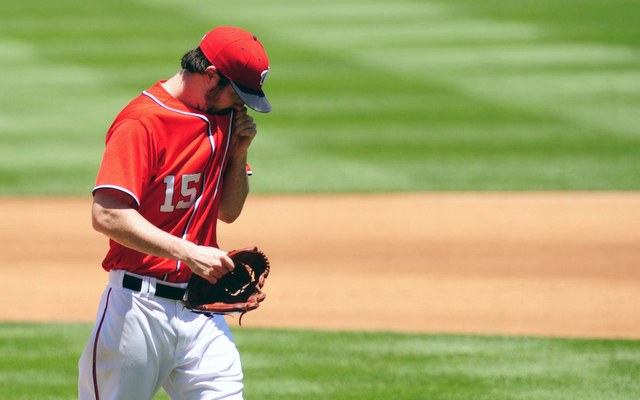 More MLB: Scoreboard | Standings | Probable Pitchers | Sortable Stats | Odds
Following Saturday's six-run, 3 1/3 innings performance against the Rockies, the Nationals placed right-hander Dan Haren on the DL with a stiff shoulder. The 32-year-old former All-Star and Cy Young contender is now 4-9 with a 6.15 ERA and 1.44 WHIP this season after signing a one-year, $13 million contract over the winter.
"Right now, I've got to wear Haren," said GM Mike Rizzo to Thomas Boswell of the Washington Post. "My name is on it. There was a reason it was a one-year deal, but he's a pro. He went on the DL last year and had a 3.58 ERA after he came back. The final verdict's not in. We'll judge it at the end of the year."
The team's starting rotation has pitched to a 3.67 ERA and 1.19 WHIP even with Haren, and the bullpen has been equally solid with a 3.47 ERA and 1.29 WHIP. Ross Detwiler just returned from an oblique injury and Ross Ohlendorf has looking promising in two appearances. Regardless, Andy Martino of New York's Daily News hears Washington has been very aggressive lately looking for pitching help.
"They're calling everybody, trying to do something," said a rival executive to Martino. "They're looking for pitching, and they're being really aggressive."
As CBSSports.com's Jon Heyman detailed last month, the trade market figures to offer a lengthy list of starting pitchers. The Nationals could target arms like Ricky Nolasco, Matt Garza, Scott Feldman, Bud Norris and Edinson Volquez. If they really want to go big, they could try to pry Cliff Lee away from the division-rival Phillies. That seems unlikely, however.
Even if the Nationals trade for a starter or get an effective Haren back from the DL, they still have to address an offense that averages just 3.51 runs per game with a team 84 OPS+. Those are the second- and third-worst marks in baseball, respectively. Bryce Harper will start a minor-league rehab assignment pretty soon, and Anthony Rendon has been a big upgrade over Danny Espinosa at second base, but they need more from the catcher (69 OPS+) and center field (72 OPS+) positions.
Washington is 37-38, has lost six of its last 10 games and trails the Braves in the NL East by six games. Getting Haren out of the rotation and Harper back into the lineup will improve their chances going forward, but they will need more help than that.
Maxwell had not played the last few games due to concussion symptoms

L.A. manager Dave Roberts indicated that Puig's benching was related to more than one inci...
Manager Torey Lovullo said so on Monday

Let's see how SportsLine forecasts the race for MLB's 10 playoff spots

Monday kicks off the final week of MLB action. Let's take a look at everything that went d...