Report: 'Neighborhood play' at second unlikely to be reviewable
The "neighborhood play" at second base is unlikely to be reviewable under the new instant replay system, according to Fox Sports.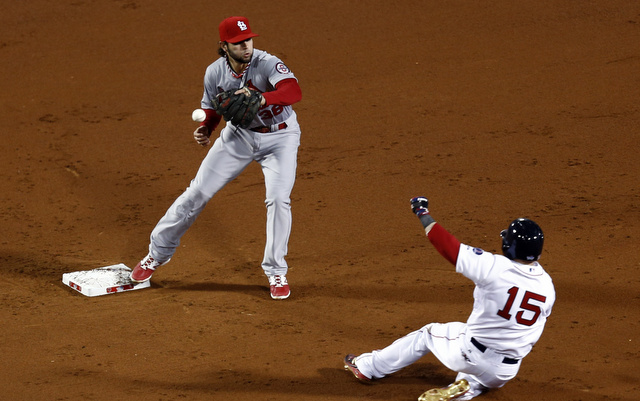 MORE: Owners unanimously approve expanded replay | Tests show little delay
MLB owners unanimously approved the new expanded replay system back in November, a system that will include two manager's challenges per game. The players' and umpires' unions still need to sign off on the system before it can be implemented, but that is expected to happen soon.
One of the biggest concerns about the new system was the "neighborhood play" at second base -- when infielders step on the area around the base but not the base itself while turning double plays. It happens a handful of times each game and it would be an easily challengeable call.
According to Jon Morosi of Fox Sports, the MLBPA has requested that the "neighborhood play" not be reviewable:
Development in replay talks: At request of MLBPA, source says "neighborhood play" at 2B on double plays likely will NOT be reviewable.

— Jon Morosi (@jonmorosi) January 16, 2014
Manager can challenge flat-out missed catch -- Kozma at World Series -- but not timing of when player caught ball while coming across bag.

— Jon Morosi (@jonmorosi) January 16, 2014
The "neighborhood play" has evolved because players tried to protect themselves while turning the double play. It helps them avoid take-out slides and nasty things like rolled ankles or spiked shins or worse. Is it a fair play? No, not really. The runner is called out even though the fielder doesn't touch the base. Is it necessary to keep players safe? Yeah, it is. Good on the union for asking to keep it in the game.
If the slow-play for Martinez, Hosmer and Arrieta sounds familiar, it should

The Nats will host the All-Star Game in 2018

The Orioles are looking to trade Machado heading into his walk year
The Cardinals have been linked for a while to the Baltimore star

Gallardo spent the first eight years of his career in Milwaukee

MLB revenues are at a record high right now, but teams aren't spending it on players