Report: Pirates, Kendrys Morales have 'mutual interest'
The Pirates have had a quiet offseason, but there is "mutual interest" between the team and free agent slugger Kendrys Morales.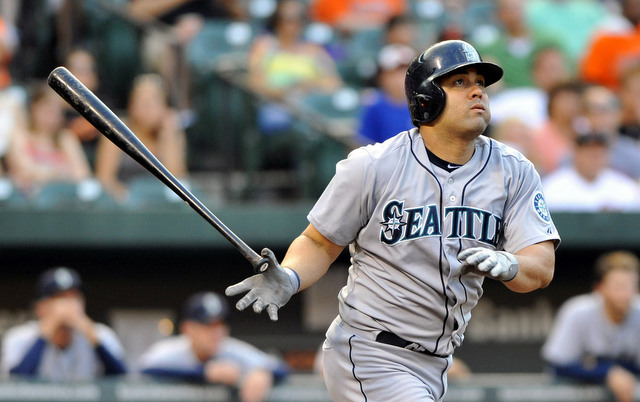 MORE: FA tracker: position players | FA tracker: pitchers
There is "mutual interest" between the Pirates and free agent first baseman Kendrys Morales, reports Nick Cafardo of the Boston Globe. The club would love to add him, but only on the right contract.
This has been a very quiet offseason for both the Pirates and Morales. Pittsburgh has signed Edinson Volquez as a free agent and Charlie Morton to an extension, but otherwise almost all of their moves have been minor trades and signings. Morales, who is attached to draft pick compensation, has not drawn much interest at all.
Last summer, Pirates' first basemen hit .264/.346/.422 with 17 homers, nearly identical to the .261/.337/.436 batting line put up by the average MLB first baseman. Gaby Sanchez crushed left-handers (.333/.438/.539), so adding a platoon partner will suffice. They don't necessarily need to add a full-time player at the position.
Morales, 30, hit .277/.336/.449 (123 OPS+) with 23 home runs in 156 games for the Mariners last year. He has played only 59 games at first base (214 at DH) over the last two years, so it's fair to wonder if he can even play the field full-time. The switch-hitting Morales doesn't have much of a platoon split, so pairing him Sanchez doesn't make much sense.
The Pirates currently own the 25th overall pick in this summer's draft after winning 94 games last season. They are widely considered to have one of the very best farm systems in baseball, so sacrificing a top pick to improve the big league team shouldn't be off the table. I'm not sure if Morales is the guy worth surrendering that 25th pick for, however.
The Royals lost many of their core players to free agency over the winter

A-Rod held a similar role last season

Bautista makes his home in Tampa
The Angels' Ohtani faced Milwaukee in Cactus League action on Saturday

New Mexico broke the school and WAC single-game run record with a 39-0 victory over Mississippi...

It's the first Saturday slate of spring training games, and Ohtani will be taking the mound...