Report: Red Sox not expected to pursue Masahiro Tanaka
Thanks to their pitching depth, the Red Sox are not likely to get involved in the nine-figure bidding war for Masahiro Tanaka.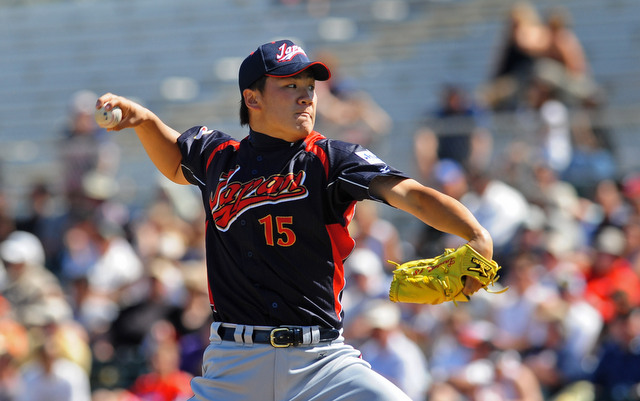 MORE: FA tracker: position players | FA tracker: pitchers
The deadline for Masahiro Tanaka to sign with an MLB team is three weeks from today. The competition for his services will be fierce, but one team you can count out of the race is the Red Sox. Peter Abraham of the Boston Globe says that while Boston is impressed with the righty, they are not expected to pursue him.
The Red Sox are one of the few teams in baseball with six starters for five spots: Jon Lester, John Lackey, Jake Peavy, Clay Buchholz, Felix Doubront and Ryan Dempster. There has been speculation that once Tanaka, Ubaldo Jimenez, Matt Garza and Ervin Santana are off the market, the Sox will look to flip one of their spare starters for a young player, maybe someone who can play the left side of the infield. Lackey and Peavy have been mentioned as the most likely to relocate.
Of course, pitching depth has a way of disappearing very quickly. Lester threw a career high 248 innings last season (regular season plus playoffs) while Lackey threw 215 1/3 total innings one year after having Tommy John surgery. Dempster has plenty of experience pitching out of the bullpen in his career and the club could keep him around as a swingman/spot starter just to protect themselves in case one of the top five break down.
The Red Sox have some young arms on the way, specifically Allen Webster and Anthony Ranaudo, but young pitchers have a way of disappointing. Lester, Dempster, Peavy and Lackey will be free agents after 2014, though Lackey and Peavy have club options for 2015. Even if the options are picked up, that's a lot of soon-to-be open rotation spots, one of which the 25-year-old Tanaka could fill. He'd blend into the back of the rotation in 2014 before taking on some more responsibility in the future.
The defending World Series champions have had a relatively quiet winter, and in fact you can make a pretty strong case they are a worse team right now than they were in the Fall Classic. Jacoby Ellsbury and Jarrod Saltalamacchia are gone, replaced by prospect Jackie Bradley Jr. and A.J. Pierzynski. Unless they re-sign Stephen Drew and let Xander Bogaerts replace Will Middlebrooks at third, I'm not sure where the team would expect to see improved performance in 2014.
The Mariners, Yankees, Cubs and Dodgers are viewed as the most likely suitors for Tanaka. His contract is expected to be north of six years and $100 million, plus an additional $20 million must be paid to his former team, the Rakuten Golden Eagles.
Gallardo spent the first eight years of his career in Milwaukee

MLB revenues are at a record high right now, but teams aren't spending it on players

Chicago added Tyler Chatwood earlier this offseason but might not be done adding to the ro...
The Dodgers and Braves pulled off a whopper on Saturday

Sabathia will reportedly spend a 10th season in the Bronx

Fowler suffered a knee injury at Chicago's Guaranteed Rate Field