Report: Rooftop owners agree not to sue Cubs if they add only two signs
The rooftop stands owners have agreed not to sue the Cubs if they only add two signs to Wrigley Field, according to the Chicago Tribune.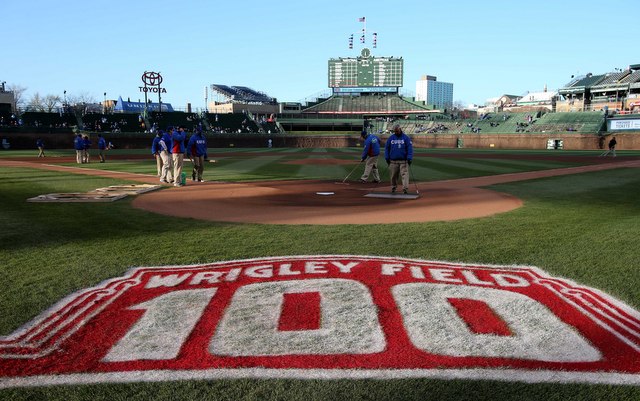 More MLB: Power Rankings | Expert Picks | Latest news & notes | Fantasy news
According to Chicago Tribune, the rooftop owners have agreed not to sue the Cubs if they only add two signs to Wrigley Field as part of their renovation plan. The rooftops have threatened to sue over obstructed views created by the renovation.
Here's more from the Tribune:
The rooftop owners reached out to the Cubs with the offer in recent weeks to resolve their long-running disagreement over proposed outfield signage that threatens their businesses and a tradition unique to Chicago.

"The rooftops have been working very hard to find a solution that works for everyone," said Jim Lourgos, who co-owns the rooftop at 3639 N. Sheffield. "I haven't heard from the Cubs yet."

...

In addition to the video scoreboard and right-field sign that were approved, the Cubs want five more signs in the outfield and other changes to the ballpark. Since the stadium is a city landmark, the team has to get approval for signs and other major ballpark changes from the Commission on Chicago Landmarks.
Back in May team chairman Tom Ricketts declared they are moving forward with their renovation plan and will stop negotiating with the rooftop owners. A large video scoreboard and additional signs in the outfield have been a sticking point in talks.
The Cubs have had an agreement in place with the owners of the rooftop stands across the street from Wrigley Field since 2004. The rooftop owners pay the team 17 percent of their annual revenue, which works out to $3 million to $4 million per year.
That renovation also includes an open-air plaza outside Wrigley, a 175-room hotel in partnership with Starwood, a 40,000-square-foot Chicago Athletic Club, a restoration of the ballpark's facade and improved amenities.
The landmarks commission is set to review the proposed renovation plan on July 10.
The coveted right-hander would certainly be a fit in Milwaukee

We rate the best mustaches from random baseball cards because, why not?

Colon wants to break a Dennis Martinez record
The Twins have been rumored to be interested in Darvish all winter

Rolen is one of the best third basemen of all time, but you wouldn't know it based on this...

Neither Josh Donaldson nor Brian Dozier have talked about a new contract extension