Report: Ryan Braun sued by former friend
Suspended Brewers slugger Ryan Braun is reportedly being sued by a former friend, who says he has been defamed.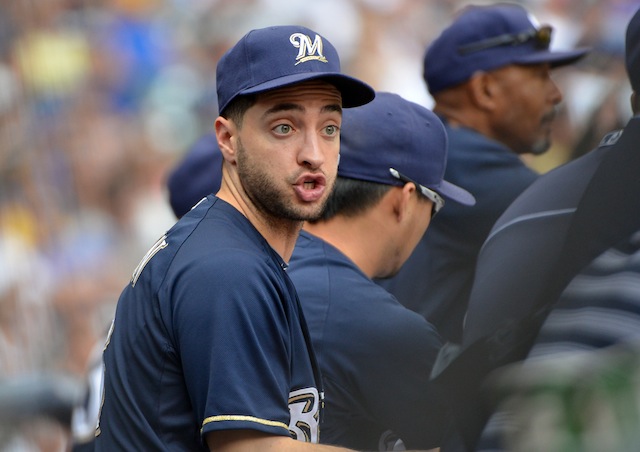 More MLB: Scoreboard | Standings | Probable Pitchers | Sortable Stats | Odds
Brewers outfielder Ryan Braun is being sued by a former friend who helped him during his successful appeal of a positive PED test in 2012, reports ESPN.com. From the story:
Ralph Sasson, 29, makes a number of personal accusations against Braun, saying in the lawsuit that Braun doped through his years at the University of Miami, committed academic fraud and accepted money while a student.

...

The lawsuit says Sasson was forced to threaten Braun and Balelo with a lawsuit in order to recover $5,000 that he says was promised, and that he was paid last year when he agreed to sign a non-disclosure agreement. But Sasson charges that Braun violated that agreement when he made what Sasson calls defamatory statements about him to undisclosed parties. Sasson asks for unspecified damages in the complaint.
According to the lawsuit, Braun's agent hired Sasson to do background research on Dino Laurenzi Jr., the collector who handled Braun's urine sample and the focus of his eventual appeal.
While Sasson declined to comment to ESPN, Braun's attorney characterized the suit as "an unfortunate attempt to capitalize on Ryan's recent press attention for taking responsibility for his actions."
Braun, of course, is presently serving a suspension that will span the remainder of the 2013 season for his role in the Biogenesis scandal.