Report: Some Nationals veterans 'resent' Bryce Harper
After two wins in Bryce Harper's first two games back, there's a report that some Nationals veterans resent Harper and the attention he receives.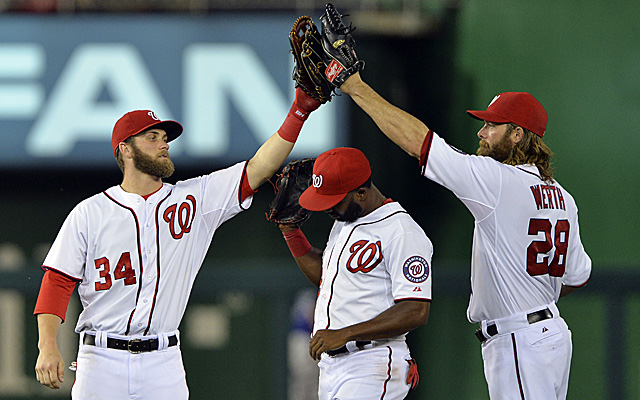 More MLB: Power Rankings | Expert Picks | Latest news & notes | Fantasy news
The Washington Nationals just got All-Star left fielder Bryce Harper back from injury, a move that shifted Ryan Zimmerman back to third base -- where he's not very well-suited to be playing these days, given his shoulder and general throwing issues.
In the wake of that, Ken Rosenthal of Fox Sports has a column containing this statement:
Williams, in his first year managing, is in a difficult if not impossible position. He needs to win over Harper, who, when healthy, is the Nationals' most dynamic player. But Williams also needs to win over his other veterans, some of whom resent that Harper is the most famous and popular Nat even though he has yet to play 140 games in a season and is still only 21.
This in the wake of Harper saying he thought the Nationals would be a better team with him in center field and Zimmerman in left (washingtonpost.com) -- even though he'd also recently said that Denard Span is one of the best center fielders in the majors.
Williams, when asked to respond, told reporters Tuesday that he's "got Bryce's back in every way and that will not change." (csnwashington.com)
So, as with all things Harper, there are sure to be plenty of polarized opinions here. Let's keep in mind that none of us actually see the interactions between Harper and his veteran teammates -- good or bad -- on a daily basis. All we know is that a report, from a very reliable reporter, says that some veterans (not all) seem to resent how much attention he garners.
For what it's worth, the Nationals won Harper's first two games back from injury by a combined count of 14-4. They've won four in a row and eight of their last 11 and sit a half-game back of Atlanta in the NL East.
On the season, Harper is hitting .286/.350/.407 with four doubles, two triples, a homer and 10 RBI in 24 games. The Nationals are 13-11 (.542) when he starts and 32-27 (.542) when he doesn't. In 2012, Harper won NL Rookie of the Year as the Nationals won the NL East and led the majors with 98 wins.