Report: Sonny Gray suffered broken left thumb in Game 5 loss
According to a report, A's rookie starting pitcher Sonny Gray suffered a broken thumb on a Prince Fielder comebacker Thursday.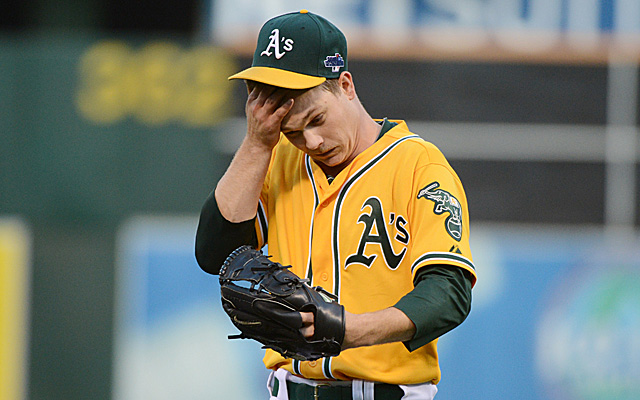 Athletics rookie starting pitcher Sonny Gray was one of the breakout stars of the divisional series round of the playoffs after his Game 2 outing against the Tigers. In Game 5, though, he wasn't as sharp and also came away with an annoying little parting gift for the offseason.
Sonny Gray suffered broken left thumb on the hard comebacker he fielded. Getting MRI tomorrow. #Athletics

— Joe Stiglich (@joestiglich) October 11, 2013
Obviously that's not ideal, but Gray does have the entire offseason to recover. Even the most serious thumb injury -- even one that required surgery -- would almost certainly be in the rearview mirror come mid-February when pitchers and catchers report for spring training. Especially so considering Gray is a right hander.
In 10 starts, Gray, 23, was 5-3 with a 2.67 ERA, 1.11 WHIP and 67 strikeouts in 64 innings in the regular season for the A's. He threw eight shutout innings in Game 2 against the Tigers, allowing only four hits and two walks while striking out nine. He didn't get the win -- because it's a silly stat -- but he absolutely put the A's in position to win against Justin Verlander.
In Game 5, Gray wasn't nearly as on his game as the first time against the Tigers. He ended up going five innings and allowing three earned runs on six hits and four walks with three strikeouts. He was probably, obviously, hampered by the aforementioned comebacker from Prince Fielder to end the fifth inning. After that, the Tigers tacked on two hits and a run to his line without Gray recording an out.
The bottom line here is that the righty Gray will be fine come spring training and the A's have a nice pitcher to be listed toward the front of their rotation heading into next season.
Marcell Ozuna figures to be the next Marlins star on the move

Several relievers have signed in the last two days

Several teams are interested in the switch-hitting first baseman
Neshek and the Phillies are closing on a two-year contract

And the team that first drafted Cole is interested

This scout was SUPER into Jeter