Report: Team officials believe ban of home plate collisions is likely
It's likely the idea of banning home plate collisions will again be broached this offseason, according to an ESPN report.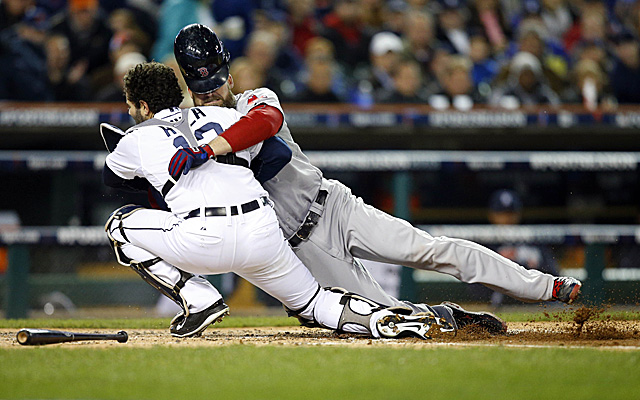 According to ESPN's Buster Olney, officials from other clubs believe a ban on home plate collisions is inevitable and will likely come soon in the wake of two collisions during Game 5 of the ALCS. The topic figures to be raised again this offseason.
"At this point, I don't know who would argue to keep it, or what their argument would be," said one official, who expects collisions to be discussed during the general manager meetings next month. "There is no reasoned argument to keep it [in the game]."
During ALCS Game 5, Miguel Cabrera ran into David Ross at the plate in the first inning before Ross ran over Alex Avila later in the game. Cabrera was out by a huge margin while the incident with Avila was closer to bang-bang but avoidable. Avila had to leave the game with a knee injury.
"Both guys were out by a mile," said the official. "With catchers dropping like flies all over the place with concussions, it's dumb ... There is no place [in the game] to be raising an elbow into somebody's head or neck to knock the ball out. It's just dumb."
Health concerns are obvious and the financial impact has to be considered as well. MLB has seen how costly concussion-related lawsuits can be thanks to the NFL. The increased risk of injury is not worth the dollars involved from both the teams' and players' point of view. Salaries and, more importantly, livelihoods are on the line.
Both Avila and Ross dealt with concussions during the regular season, but they stemmed from taking foul tips to the facemask. Players like Buster Posey and Carlos Santana have suffered serious knee injuries as the result of home plate collisions in the recent years.
Outside of professional baseball, base-runners must be granted a path to the plate and are not allowed to target the catcher for a collision. It is expected MLB would simply adopt those rules if collisions are indeed banned.