Report: Tigers, Mariners, Red Sox have talked to Dodgers about Kemp
The Dodgers have had conversations with three teams regarding Matt Kemp this week. They're willing to eat some money to facilitate a trade.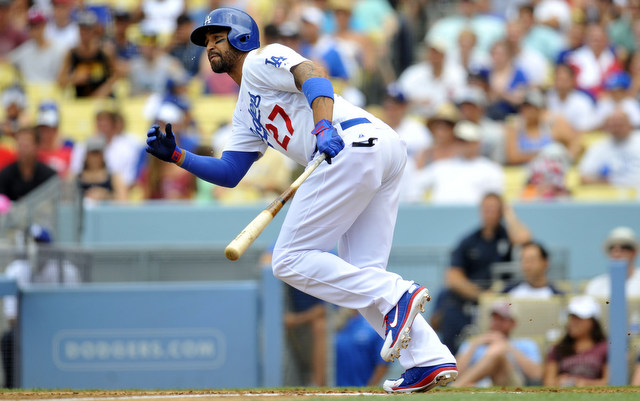 MORE: FA tracker: position players | FA tracker: pitchers | Winter Meetings updates
The Tigers, Mariners and Red Sox are among the teams who met with the Dodgers to discuss Matt Kemp at the Winter Meetings this week, report Ken Rosenthal and Jon Morosi of Fox Sports. Los Angeles is willing to include cash in a trade to get better players in return.
Kemp, 29, has missed 145 games over the last two seasons due to a series of injuries, including hamstring, shoulder and ankle problems. He had surgery on the shoulder last offseason and surgery on the ankle a few weeks ago. It's unclear if Kemp will be healthy enough in time for spring training.
The Tigers signed Rajai Davis to a two-year contract on Tuesday, meaning they are likely out of the running for an outfielder now. They figure to go into the season with Austin Jackson in center, Torii Hunter in right, and a Davis/Andy Dirks platoon in left. New Tigers manager Brad Ausmus played with Kemp from 2009-10.
The Mariners just signed Robinson Cano and are aggressively looking to improve their team in other places, most notably the outfield and starting rotation. They've been connected to free agents Nelson Cruz and Shin-Soo Choo, so trading for Kemp is along the same lines.
The Red Sox, meanwhile, definitely have the prospects and financial wherewithal to acquire Kemp. They lost Jacoby Ellsbury to free agency, but Jackie Bradley Jr. is an obvious internal replacement. Shane Victorino, Jonny Gomes and Daniel Nava are also in the outfield mix.
Kemp hit only .270/.328/.395 (105 OPS+) with six home runs and nine stolen bases in 73 games around the injuries this past season, but he hit .303/.367/.538 (147 OPS+) in 106 games last year and .324/.399/.586 (172 OPS+) with 39 home runs and 40 stolen bases in 2011. Obviously any team that trades for him will be hoping they get the 2011 version.
Money is an issue -- Kemp is owed $128 million through 2019, so not every team can afford him. It's unclear exactly how much of that $128 million the Dodgers are willing to eat to facilitate a trade, but they'll surely look to receive impact players or prospects in return. They're not going to give Kemp away.
We've seen several huge contracts traded in recent years -- Prince Fielder a few weeks ago and Vernon Wells (twice!) in recent years, for example -- but Kemp's injuries complicate things. He's missed time with serious stuff, not bumps and bruises. Any team looking to acquire him will have to check him out thoroughly during the pre-trade physical.
MLB can unilaterally implement rule changes

If the MLBPA wants to fix MLB's economic system, it should push for more money for young p...

Fans aren't happy Gerrit Cole and Andrew McCutchen have been traded away
Acuna is arguably the best prospect in baseball

Kent had a good career, particularly with the bat

This would undoubtedly be the worst trade in Miami Marlins history