Report: Trade sending Sergio Santos to Rangers fell through
The three-team trade sending Sergio Santos to the Rangers fell through when another player failed a physical, according to Fox Sports.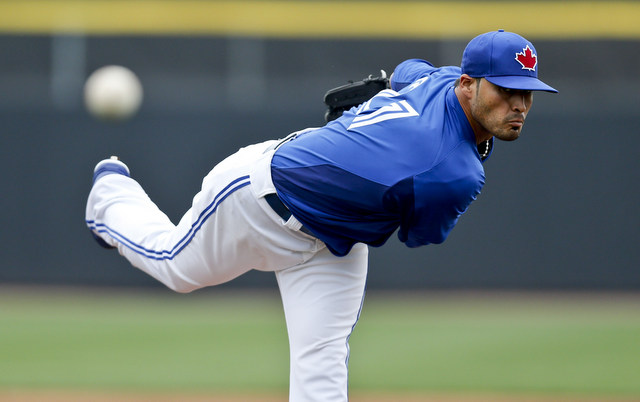 MORE: FA tracker: position players | FA tracker: pitchers | Winter Meetings updates
A three-team trade that would have sent righty reliever Sergio Santos from the Blue Jays to the Rangers fell through about two weeks ago when another player failed a physical, report Ken Rosenthal and Jon Morosi of Fox Sports. The third team and other players involved are unknown.
Santos, 30, returned from shoulder surgery to post a 1.75 ERA (236 ERA+) with a 0.58 WHIP in 25 2/3 innings this past season. He struck out 28 and walked only four, two of which were intentional. PitchFX data confirms his fastball was still sitting in the mid-90s following the shoulder operation.
The Rangers lost Joe Nathan to free agency but will get Neftali Feliz back from Tommy John surgery in 2014. Feliz returned to throw 4 2/3 scoreless innings late in 2013. Texas also has Joakim Soria and Tanner Scheppers in the bullpen, but there's always room for another hard-thrower.
The Blue Jays are in need of a starting pitcher and a second baseman. Could they have fetched one of those for Santos? Maybe. Relievers coming off shoulder surgery usually don't have a ton of trade value.
The fact that the trade had reached the physical-taking stage is an indication all three teams had agreed to the deal.
L.A. manager Dave Roberts indicated that Puig's benching was related to more than one inci...

Manager Torey Lovullo said so on Monday
Let's see how SportsLine forecasts the race for MLB's 10 playoff spots

Monday kicks off the final week of MLB action. Let's take a look at everything that went d...

No other rookie in baseball history has hit more home runs than Judge has this year