Report: Yankees keeping an eye on Joel Hanrahan
The Yankees may not be done adding rehabbing relievers this offseason.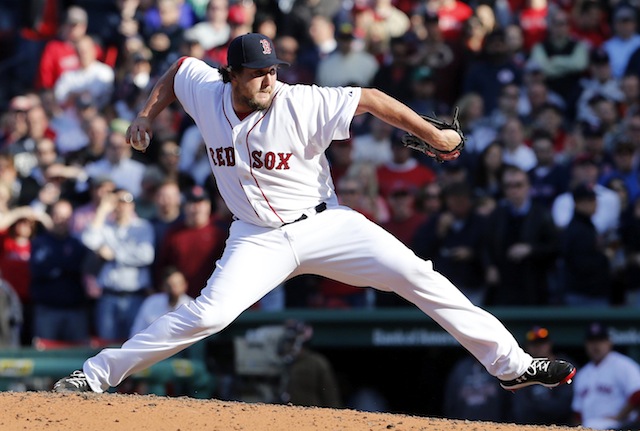 MORE: Spring Training | FA tracker: position players | FA tracker: pitchers
In an effort to bolster their post-Mariano Rivera bullpen, the Yankees recently came to terms with rehabbing right-hander Andrew Bailey. Now, Andy Martino of the New York Daily News reports that the Yankees are eyeballing another former Red Sox reliever who's on the mend: Joel Hanrahan. 
Martino writes: 
The Yankees also continue to monitor another former All-Star, Joel Hanrahan, who underwent Tommy John last year (the Mets have also watched him throw a bullpen session).  If Robertson is successful, a player like Hanrahan would probably serve as a setup man.

All of this might end up being due diligence, but it underscores that even internally, the Yankees understand their bullpen is thin, a potential weakness that could undermine some of their improvements in other areas, like the rotation and lineup.
It was May 16, 2013 that Hanrahan underwent Tommy John surgery, so it's of course possible that he could be ready to contribute in the first half of the upcoming season. 
Hanrahan, age 32, logged just 7 1/3 (understandably) disastrous innings with the Red Sox last season before being shut down. For his career, he's pitched to a 3.85 ERA (106 ERA+), 1.40 WHIP and 2.23 K/BB ratio.
Hanrahan when healthy is adept at missing bats with his fastball-slider combo, but he's struggled with control off and on throughout his career. Since command is often the last thing to return to a pitcher post-Tommy John, expecting much in the way of quality innings out of Hanrahan in 2013 may be a bit unrealistic. Still, little harm in a minor-league deal and an NRI, provided that's what the market allows. 
Plus the Indians are now 27-1 in their last 28 games. Here is everything you need to know from...

The soon-to-be 43-year-old Dickey said he wants to spend more time with his family

The two NL Central rivals opened a four-game series at Miller Park on Thursday night
The ballparks in Cincinnati, San Diego and Seattle will have expanded netting in place by Opening...

Mondesi spent six years as the mayor of San Cristobal in the Dominican Republic after reti...

The veteran skipper has been Mets manager since the start of the 2011 season