Report: Yankees set to pay record $29.1 million luxury tax bill
The Yankees will be hit with a $29.1 million luxury tax bill after the season, a new record for the competitive balance-driven system.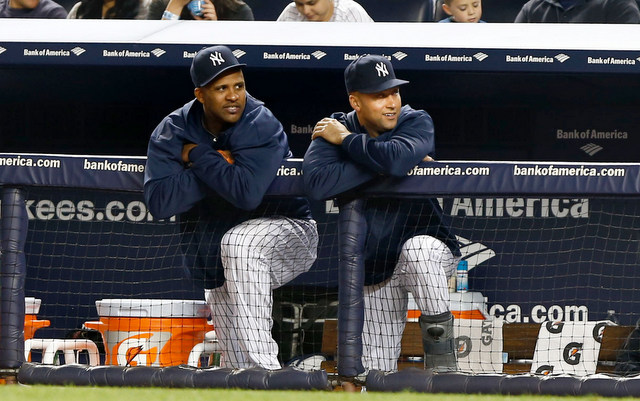 More MLB: Scoreboard | Standings | Probable Pitchers | Sortable Stats | Odds
According to Bob Nightengale of USA Today, the Yankees are looking at a record $29.1 million luxury tax bill after the season. That is based on a $236.2 million payroll. New York is taxed 50-percent on every dollar over the $178 million luxury tax threshold.
The luxury tax is calculated using end-of-season payroll, so that $236.2 million number could still change over the next few weeks based on trades and call-ups/send-downs. New York took on another few hundred thousand dollars by acquiring Brendan Ryan on Tuesday, for example.
Yankees ownership has made it no secret that they intend to get under the luxury tax threshold -- which increases to $189 million in 2014 -- next year and beyond. That would not only save them the luxury tax bill itself, but it also comes with revenue sharing rebates as well.
The Dodgers are the only other team in line to pay the luxury tax this year. Their $234.5 million payroll comes with a $9.9 million tax bill. As first-time offenders, they are only taxed 17.5-percent on any overage.
"We are mindful of the tax,'' said Dodgers president Stan Kasten to Nightengale. "We understand the impact it will be this year and in the future. But I think over time, we will become a team that doesn't pay tax."
The Yankees have paid approximately $253 million in luxury tax since the system was implemented in 2003. Every other team in baseball has paid roughly $32 million combined. The Red Sox, Tigers and Angels are the only other clubs to pay the tax over the years. Luxury tax payments go into MLB's central fund.
As best I can tell, the previous luxury tax payment record was $25.7 million by the 2009 Yankees.
In the last several years, lots of droughts have ended in MLB

The most likely scenarios are Dodgers winning in five or six games

Despite a seven-game ALCS, the Houston rotation lines up nicely for the World Series
Sabathia and the Yankees are a perfect fit for each other

Bregman threw out Greg Bird at the plate to preserve the Astros' lead

The 2017 World Series begins Oct. 24