Reports: Masahiro Tanaka decision to come during Christmas holiday?
It appears the decision regarding Masahiro Tanaka's future is a few days away.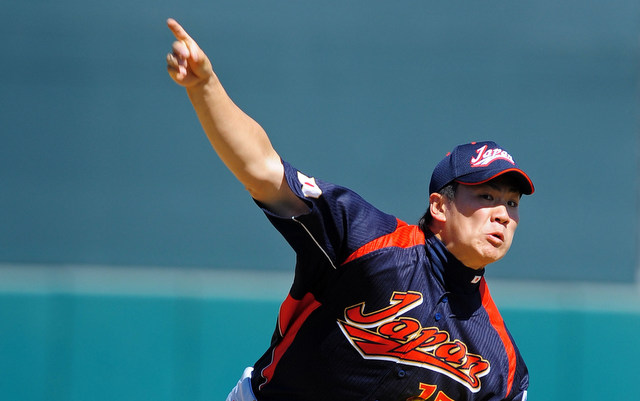 MORE: FA tracker: position players | FA tracker: pitchers
At some point soon (hopefully very soon), we will learn whether the Rakuten Golden Eagles in Japan will make ace right-hander Masahiro Tanaka available to MLB teams via the posting system. The pitching market has been handcuffed for weeks now while awaiting the announcement.
According to Ben Badler of Baseball America, Rakuten could announce its decision at some point this week, perhaps either Tuesday (Christmas Eve) or Wednesday (Christmas). Here's the explanation:
Tanaka is currently away in Tokyo making appearances at events today and tomorrow, according to Japanese media reports, including Nikkan Sports. While Tanaka said he has yet to hear back from Eagles management since he informed the team of his desire to pitch in Major League Baseball next season, it's expected that the Eagles will inform Tanaka of their decision at their next meeting.

Since Tanaka could have more events beginning Dec. 26, the belief in Japan is that an announcement on Tanaka could come on Dec. 24 or Dec. 25. The deadline for the Eagles to decide whether to make Tanaka available through the posting system is Feb. 1, though it isn't expected they would drag things out anywhere close to that date.
A major announcement like this falling on a major holiday would be less than ideal for many reasons, but especially because the buzz and attention would be somewhat muted. Not too many people pay attention to the hot stove during Christmas and, frankly, not many teams and GMs work the phones particularly hard that day.
Thanks to the new posting system, Rakuten will receive only $20 million for Tanaka if they make him available. That's one-third or maybe even one-quarter of what they would have received under the old system. The team could keep him for another year (the Golden Eagles won the Japan Series a few weeks ago) before posting him next winter. There is risk in doing that, specifically Tanaka getting hurt.
Once the decision is announced, the market for free agent hurlers Matt Garza, Ubaldo Jimenez and Ervin Santana should heat up. Clubs have been waiting to see if Tanaka will be posted just to make sure they covered all of their bases and explored all options before diving into the pitching pool.
Thursday brings us plenty of stretch-drive MLB action, so keep it right here

The ballparks in Cincinnati, San Diego and Seattle will have expanded netting in place by Opening...

Mondesi spent six years as the mayor of San Cristobal in the Dominican Republic after reti...
The veteran skipper has been Mets manager since the start of the 2011 season

The Baltimore third baseman is eligible for free agency following the 2018 season

The clubs breaks ground on Globe Life Field next week