Reports: The Astros may still be able to sign top pick Brady Aiken
By all appearances, the Astros and top overall pick Brady Aiken may yet forge an agreement, even though the signing deadline passed long ago.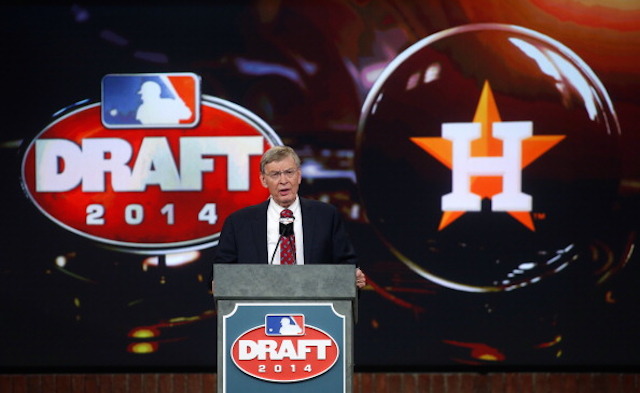 You'll recall that the Astros, after a contentious negotiation, failed to come to terms with top overall 2014 pick Brady Aiken, the highly regarded prep lefty out of San Diego. Since the July 18 signing deadline has long since passed, the assumption was that Aiken would honor his commitment to UCLA or go the junior college route and re-enter the draft in 2015. Now, though, it appears a deal with the Astros may still be possible. 
First, Kiley McDaniel of FanGraphs tweeted this out late last week:
The expectation from those close to the negotiation is that Brady Aiken will end up making a deal with the Astros around the Nix hearing.

— Kiley McDaniel (@kileymcd) August 21, 2014
Then John Maffei of the San Diego Union-Tribune followed up with his:
The July 18 deadline to sign draft picks has come and gone, with Aiken rejecting the Astros' last-minute offer. But the team could still sign the No. 1 overall draft pick under a clause at Major League Baseball's discretion.

The other 29 major league clubs have signed off on that clause, industry sources said. The Aikens, however, would insist on a sign-and-trade deal before agreeing to terms with Houston.
If it's a sign-and-trade deal, then, well, this is even more unusual. 
Anyhow, now, in a brief interview with ABC 10 in San Diego, MLB commissioner Bud Selig has all but confirmed that an Astros' after-deadline signing of Aiken is still in play. Here's the key excerpt:
10News asked him, "Can you confirm if (his offer) was able to go past the July 18 deadline?"

Selig replied, "We're working on that right now. There are a lot of things in movement there so it would be inappropriate for me to comment, but I would say we are working towards a hopeful solution."
Needless to say, this would be a big coup for the Astros, whose 2014 draft, absent an Aiken signing, looks fairly disastrous. I'm not sure why the other 29 teams would permit such a thing (pressure from on high, perhaps?), but these reports indicate that that's precisely what's underway. 
Originally, Aiken and the Astros appeared to have a deal in place, but after Aiken's physical a dispute over the state of his elbow led the Astros to reduce their initial offer quite significantly and Aiken's camp to balk at the extent of the reduction. Maybe in the end, though, the Astros will get their pitcher, and Aiken will get his price, even if that entails an end run around the rules in place. 
CBS Sports HQ Daily Newsletter
Get the best highlights and stories - yeah, just the good stuff handpicked by our team to start your day.
Please check the opt-in box to acknowledge that you would like to subscribe.
Thanks for signing up!
Keep an eye on your inbox for the latest sports news.
Sorry!
There was an error processing your subscription.
Cody and Clay Bellinger have played six MLB seasons combined and gone to the World Series all...

The Red Sox are the early favorites among the bookmakers

The Dodgers are headed to the World Series again
Bellinger also had the walk-off hit in Game 4

The Dodgers are going to the World Series for the second straight season

The NLCS starts Oct. 12 in Milwaukee