Resurgent Angels look to make up for lost time, save their season
The suddenly resurgent Angels have won seven of eight games and are showing signs of life. But is it too late? Even if Albert Pujols and Josh Hamilton reappear, it might be.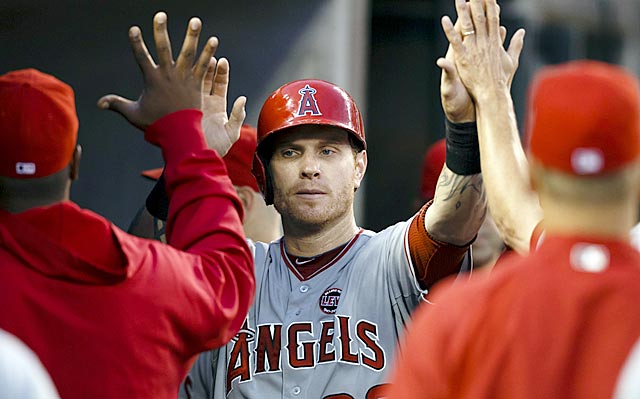 ANAHEIM, Calif. -- Why hello, Angels. Welcome to the 2013 baseball season. So nice of you to join the rest of us.
"Everyone is talking about our pitching and offense," ace Jered Weaver says of his club's sudden surge, winning seven in a row before Wednesday night's 12-2 whipping by the Cardinals. "But defense always has been a great part of our organization, too.
"It's not just pitching and offense. Defense has played a major role."
Greetings, Josh Hamilton. Is this really you now?
"When it's going bad bad, you tend to let more things in than you should," says Hamilton, who now has a season-high eight-game hitting streak and batted .429 with seven runs, a couple of doubles and four RBI on the recently completed six-game trip to Houston and Detroit.
Now?
"As they say in For Love of The Game, 'Clear-It Mechanism,' " Hamilton says.
It's taken far too long, but the Angels finally are playing like stars instead of stand-ins. Interesting happenings right now all the way around in Los Angeles, with the Angels and Dodgers each taking great strides to save their seasons over the past couple of weeks.
But it is the Dodgers who remain in far better shape and not only because Yasiel Puig has brought every bit of energy to them that Mike Trout did to the Angels a year ago.
No, what the Dodgers have going for them is the NL West. It stinks. It is going to be great fun tracking these five teams throughout the second half, because some crazy stuff is going to happen. But it still stinks.
A month ago, pundits had Don Mattingly fired. He might wind up as Manager of the Year before it's over. The Dodgers might be in first place by the All-Star break.
The Angels? Even after winning seven of their past eight, they're still 8½ out. And they're chasing Oakland and Texas, two teams better than any of the five clubs in the NL West.
Plus, the Angels already put together one eight-game winning streak earlier this season.
Then they lost 11 of their next 15.
So what happens now?
"This feels a little different, to be honest," Mark Trumbo says. "That was awesome as well, but this has been pretty darned consistent baseball.
"We've gotten some leads and held onto all of them. Our bullpen has done an outstanding job. We've gotten some big hits. It's all part of the bigger picture of moving forward, trying to get as many wins as possible."
Will it last? Who knows?
Second baseman Howie Kendrick, long ago predicted by several Angels to one day win a batting title, was third in the American League on Wednesday with a .323 batting average. Trout was sixth with a .388 on-base percentage, fifth with a .539 slugging percentage and third with 57 runs scored. Trout (104) and Kendrick (102) each rank in the top 10 in hits. Erick Aybar is hitting .342 with 18 RBI over his past 18 games.
Meantime, Jared Weaver looked almost exactly like ... Jered Weaver in the series opener against the Cardinals on Tuesday. His velocity, alarmingly down a couple of weeks ago, was better. His past two starts have been pretty good.
"It was tougher to get back than I thought it would be," Weaver says. "I didn't think [nearly two months out] would affect me like that."
Albert Pujols, with a sore foot and a sore knee, still can't move and is hitting only .244 to go with his 13 home runs and 49 RBI. Finally conceding the obvious, manager Mike Scioscia has slotted Pujols as the designated hitter in 25 of 29 games since June 1.
"If Albert DHs the rest of the year, so be it," Scioscia says.
Both Scioscia and Pujols fought that notion earlier in the year, but there is no faking things with plantar fasciitis. The only cure is rest, lots of rest, the kind of rest that is impossible during the baseball season. Unless you're going to simply give up on the season.
"The most important thing for Albert is to be comfortable in the batter's box," Scioscia says. "We need that more than we need him as a Gold Glove-caliber first baseman."
And then there's Hamilton, at .225 but back in the cleanup slot, whose struggles apparently have driven him back to smokeless tobacco. He won't comment on that, but the expectorated brown juice over the past week is a pretty good clue.
"He's been really even-keeled," Trumbo says. "He's handled it as gracefully as you could ask for. A lot of guys would have had breakdowns.
"He's top-notch."
As I wrote in April, with Hamilton, Trout and Pujols, this will be Arte Moreno's Most Spectacular Failure yet if the Angels aren't playing in the World Series.
We've seen what has happened since then. The Rally Monkey long ago was splattered on the side of Interstate 5.
What this is right now is the Angels' last gasp, early July or not. They must parlay this winning streak into a longer hot streak because they have so little margin for error.
Though their predicament might resemble 2012, it's actually worse.
After 84 games a year ago, the Angels were 46-38 and four games out in the AL West. They trailed only Texas.
This year, they're 40-44 and 8 1/2 out. And they trail two clubs.
The Angels already have spent 78 game days below .500 this season.
Last year, when they perfected the art of clunking out of the gate, the Angels were under .500 for only 43 game days.
Weaver is back, but Jason Vargas, the Angels' best pitcher earlier in the season, has missed 13 games with a blood clot. And Peter Bourjos (fractured wrist) is back on the disabled list for a second time.
"I hope we're going to be able to continue this level of play," Scioscia says. "It doesn't have to be a seven-game or an eight-game streak.
"But it definitely can't be where our production dries up on the pitching or offensive side for five or six games."
Dioner Navarro still hopes to return someday

Christian Yelich's agent says his client's relationship with Marlins is 'irretrievably bro...

The free-agent market has been slow and one player is bracing for an even longer wait
The Mets didn't want to trade a young outfielder for an older one

Josh Harrison doesn't sound pleased Gerrit Cole and Andrew McCutchen have been traded away

The team's media contracts expire following the 2019 season