Resurgent Padres close to getting a boost from Yasmani Grandal
SAN DIEGO -- One week from now, the Padres will be in position for what could be a big boost: Catcher Yasmani Grandal's 50-game suspension for failing a performance-enhancing drug test is up May 28. Now, the clock is ticking for Nick Hundley and John Baker to show why the Padres shouldn't make the move. ...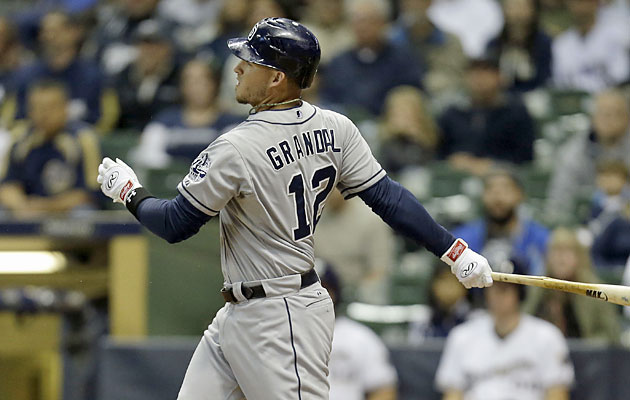 SAN DIEGO -- Tick, tick, tick. …
Here comes trouble in San Diego. Or, assistance.
Hard to say which right now.
One week from Tuesday, convicted drug cheat Yasmani Grandal becomes eligible again for major-league duty, having served his 50-game penalty for a positive performance-enhancing drug test.
Which means these very well may be the final days on San Diego's major-league roster for Nick Hundley … or, more likely, for backup John Baker.
And here's the thing: As things stand right now, the Padres have turned their season around. Following a horrible 2-10 start, they regained their balance and now have won 16 of their past 24 games after dispatching the Cardinals 4-2 Monday.
In fact, the Padres' 16-8 record since April 24 is tied for the best in the National League. The Cardinals also are 16-8.
They've won 12 of their past 15 home games. And they've moved 2 ½ games ahead of the last-place Dodgers.
All of which brings up the dreaded "C" word -- chemistry.
Might the addition of Grandal alter things in a way that leads the Padres into a regression?
Or will the addition of a bat that hit .297 with a .394 on-base percentage, eight homers and 36 RBI in 60 games last season propel San Diego to even greater heights?
And another question: Was what the Padres saw last year the real Grandal? Or was some of that the Vitamin S talking?
Sorry. That was two more questions.
"Yas, in 10 days, played very well in extended spring training," manager Bud Black says. "Granted, the competition was younger and less developed."
The Padres right now are mostly mum on the  matter, preferring not to get too far out ahead of themselves. Black sidestepped specific questions regarding the club's plan for Grandal next week, and you can't blame him. Who knows what might happen by then? One of their current catchers is injured, the Padres can avoid answering specific questions even longer than six or seven days from now.
Nothing says the Padres must activate Grandal on May 28, when he becomes eligible.
But even if they are still winning by then, chemistry only takes you so far, and right now it is impossible to overlook this:
Hundley is 2 for 40 so far in May, Baker 3 for 18.
Hundley is 1 for his last 36, has one RBI during the month and is hitting .050/.152/.075. For the season, he's at .235/.285/.387.
Baker is hitting .200/.294/.200, and before a two-run single at Baltimore last Wednesday, was in a 0 for 19 funk. For the season, he's at .162/.279/.162.
Tick, tick, tick. …
"I don't think it's an awkward situation." veteran Padres outfielder Mark Kotsay says. "Maybe for the two individuals involved, but they'll talk and move forward."
"There's that looming question of what's going to happen," third baseman Chase Headley says. "But that's for the people who make those decisions.
"Whatever happens, I expect guys to, I'm not going to say be indifferent to it, but guys are going to respond to the situation in the best way they possibly can."
Awkward or not, it has the potential to be uncomfortable for a bit. If Hundley sticks around, his playing time likely will be reduced given his prolonged slump at the plate. Hundley, who signed, a three-year, $9 million deal in March, 2012, knew the score going into the season. As he said this spring, this isn't the San Diego Boys' Club where everybody gets a turn. This is the big leagues, with big money, big expectations and big-time pressure.
"It happens all the time in baseball," Headley says. "You see guys come and go whom you have great relationships with. It happens all the time.
"That's part of being a professional. Do your job, and put personal feelings aside."
In Omaha, Neb., on Monday night, Grandal went 1 for 4 with a walk and a strikeout for Triple-A Tucson. In three games with Tucson, he's hitting .333 (3 for 9) with three RBIs and a .400 on-base percentage.
What's clear is that, unless things change, especially at the plate, Hundley and Baker are making this decision easier by the day for the Padres.
"Whenever a move takes place and he becomes a member of our team, we'll treat him like anybody else," Kotsay says of Grandal. "We don't let things linger around here."
The 2017 season has been, by far, the worst season of Cabrera's career

Check out all of Sunday's action, including a single-season record getting closer to falli...

The Mariners were eliminated from postseason contention with Sunday's loss
Maxwell became the first MLB player to kneel during the national anthem Saturday

The Blue Jays are not expected to bring Bautista back next season

The Dodgers have already clinched the NL West title, so the D-Backs will be a wild card te...