Reviewing notable August 2012 trades
A number of pennant race-changing trades went down during the waiver period last August. Here are the best and biggest.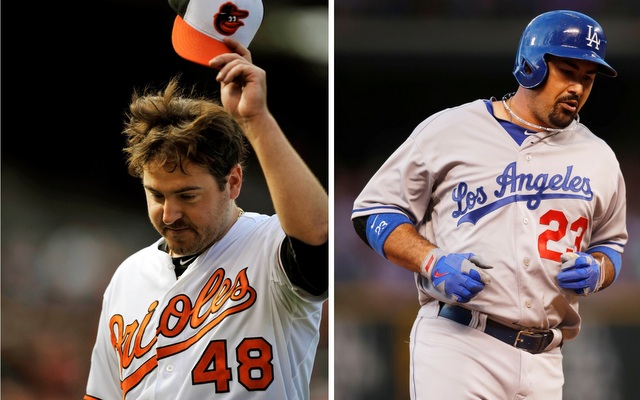 More MLB: Scoreboard | Standings | Probable Pitchers | Sortable Stats | Odds
Although the trade deadline was this past Wednesday, teams can still make trades from now through the end of the season. My blogmate Matt Snyder explained how that works on Thursday. The important thing to remember is that although trades can happen at any point from now through the end of the year, a player must be with the organization on Aug. 31 to be eligible for the playoff roster.
By my unofficial count, there were 18 waiver trades made last August. Most were very minor deals, but some of them actually had an impact at the big league level. Heck, we even had one blockbuster trade that legitimately altered the direction of two franchises. I doubt we'll see that again this year, but who knows? Let's look back at the most notable trades from last August to get an idea of what might be in store these next few weeks.
AUGUST 3
Dodgers Get: RHP Joe Blanton
Phillies Get: RHP Ryan O'Sullivan
This trade was more about shedding close to $3 million in salary for Philadelphia than anything else. O'Sullivan was a former fourth round pick who had fallen off the prospect map due to an inability to miss bats and control problems in Single-A. Blanton gave the Dodgers some rotation depth, going 2-4 with a 76 ERA+ in 57 2/3 innings spread across 10 starts following the deal. He walked as a free agent after the season.
Nationals Get: C Kurt Suzuki
Athletics Get: C David Freitas
Washington was dealing with the loss of Wilson Ramos, who suffered a season-ending knee injury in May, and Oakland was happy to shed the $8.7 million or so left on Suzuki's contract. The veteran backstop gave the Nats a nice boost after the trade, putting up a 95 OPS+ in 43 games. He has a 62 OPS+ this year as Ramos has again battled injury. Freitas is a middling prospect who hasn't hit at the upper levels of the minor leagues.
AUGUST 4
Athletics Get: RHP Pat Neshek
Orioles Get: Cash
Neshek had a clause in his minor league contract with Baltimore that said the team had to let him go if another club was willing to give him a big league job, and that's exactly what happened. O's manager Buck Showalter even said he wouldn't call it a trade since the amount of cash was small. Neshek was excellent with the A's, pitching to a 291 ERA+ in 19 2/3 innings down the stretch. He remained with the team has an arbitration-eligible player and has a 158 ERA+ this year.
AUGUST 14
Mets Get: C Kelly Shoppach
Red Sox Get: Player to be named later (RHP Pedro Beato)
The Mets had interest in signing Shoppach as a free agent last winter, so they decided to swing a waiver trade to give him a seven-week tryout with the team. He mostly failed, producing a 70 OPS+ in 28 games with New York down the stretch. The club didn't bother to re-sign him. Beato has been an up-and-down arm for Boston, pitching to a 115 ERA+ in 15 1/3 innings for the Red Sox since the trade.
AUGUST 21
Athletics Get: SS Stephen Drew
Diamondbacks Get: IF Sean Jamieson
It was surprising when Drew, who had fallen out of favor in Arizona, wasn't moved prior to the non-waiver trade deadline. The D-Backs instead waited to ship him to Oakland, where he gave the team a 98 OPS+ and solidified the middle infield for their final 39 games of the season. Arizona did save approximately $3 million in the trade, but Jamieson is a fringe Single-A prospect at best. Drew left the A's as a free agent following the season.
AUGUST 25
Dodgers Get: 1B Adrian Gonzalez, OF Carl Crawford, RHP Josh Beckett and IF Nick Punto
Red Sox Get: 1B James Loney, RHP Allen Webster, IF Ivan DeJesus Jr. and two players to be named later (RHP Rubby De La Rosa and 1B/OF Jerry Sands)
This is that franchise-altering blockbuster I was talking about, but I'm guessing you knew that already. The Dodgers and their new Magic Johnson-led ownership group wanted to make a splash ... well, they wanted to make a bigger splash. They had already acquired Hanley Ramirez and Shane Victorino prior to the trade deadline and were eager to spend more money.
The Red Sox, on the other hand, were mired in an ugly stretch that included a historic collapse in September 2011 and what was ultimately a last place finish in 2012. Gonzalez and Crawford had already fallen out of favor roughly 18 months after signing nine-figure contracts, and Beckett's grumpiness was tougher to swallow as his performance declined. They were happy to wipe the slate clean.
Los Angeles assumed essentially all of the money on the contracts coming their way -- more than $260 million (!!!) in commitments -- even though Crawford was done for the year following Tommy John surgery. They also surrendered two very good young pitchers in Webster and De La Rosa. The Red Sox got their clean financial slate and the Dodgers got their headlines.
The trade has actually worked out quite well for both teams. They're both in first place, Crawford (108 OPS+) and Gonzalez (130 OPS+) have been above-average players for the Dodgers, and the Red Sox used to savings to add depth and remake the team's clubhouse culture. There's a long way to go before we can give a trade of this magnitude a final grade, but right now it's a win-win.
AUGUST 28
Orioles Get: LHP Joe Saunders
Diamondbacks Get: RHP Matt Lindstrom
Saunders had more impact on the 2012 playoff race than any other player traded in August. He managed a 117 ERA+ in seven starts for the Orioles and helped the team to their first postseason appearance since 1997. Saunders then beat Yu Darvish and the Rangers in the wild-card play-in game. Lindstrom pitched well (116 ERA+) in limited time (10 2/3 innings) with Arizona. Both players signed elsewhere as free agents over the winter.
* * *
Most August waiver trades are inconsequental, but a few will have some impact down the stretch. Last year it was Saunders, Suzuki and Drew. That Red Sox-Dodgers blockbuster is a rarity for any time of year, nevermind August. That might be the biggest trade of the last 10-15 years. There will definitely be a bunch of waiver trades in the coming weeks, but nothing of that caliber.
Francisco leads the Dominican Winter League with seven home runs

Thome deserves enshrinement and here's why the case against him does not hold up

The Twins have already fortified the bullpen with Addison Reed, and now they want to address...
The Orioles likely want pitching, and the Indians have plenty of it

Halladay died in a November plane crash off the coast of Florida

The power-hitting outfielder is headed to Toronto