Rich Hill joins Red Sox in spring training after infant son passes away
Lefty reliever Rich Hill has reported to spring training after his infant son passed away.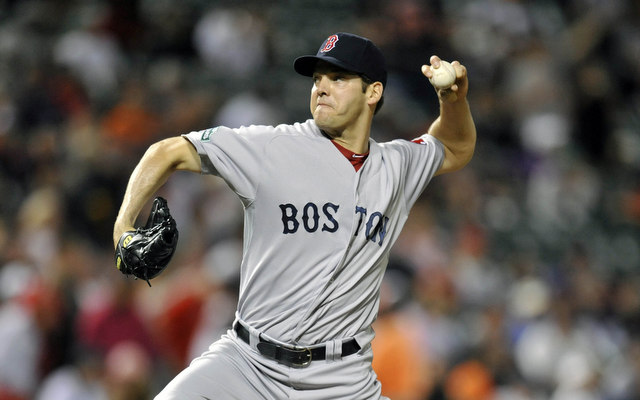 MORE: Spring Training | Scoreboard | FA tracker: position players | FA tracker: pitchers
This is heartbreaking. Veteran left-hander Rich Hill has joined the Red Sox in Florida for spring training after his infant son passed away. He had been in Boston with his family. From ESPN Boston:
"We had a son on Dec. 26, and he was born with multiple issues that we confronted and had to deal with as we were moving through the last couple of months at Mass General," Hill said. "Unfortunately he succumbed and he has passed. He taught us a lot of things, and unfortunately things didn't work out.

"My wife has been extremely strong. Our son, who is 2½, is with us here down in Florida, so we are going to enjoy our time here and obviously make the most of the opportunity that's here to present itself to play baseball."
Hill is from the Boston area and he signed with the club this offseason so he could remain close to his family. He had previously been with the team from 2010-12, and he spent last year with the Indians.
After expressing his gratitude to the staff as Massachusetts General Hospital and the Red Sox, Hill said he is looking forward to getting back to baseball and being around his teammates during such a tough time.
"Excited to be here, to be playing baseball again and get back into the normalcy of my profession and to be around a great group of guys and to just take that next step," he said.

...

"I fully feel that the opportunity is here," he said. "I think that was also with a blend of the opportunity that is here and obviously with our family situation that we had. With the opportunity that is here, [I want] to make the most of it and do everything I can on a daily basis to perform."
Hill, 33, has a career 4.74 ERA in parts of nine big league seasons. Our condolences go out to him and his family.
Also, how much did the Cubs increase their chances?

Los Angeles will have another chance to close the series out on the road

They're alive in the NLCS after their Game 4 win over the Dodgers
You never know what you might get from Arrieta, but what we got was brilliance in Game 4

The 2017 World Series begins Oct. 24

There will be a Game 5 after all on Thursday night