Ricky Nolasco and the worst offseason signings (so far)
Was Ricky Nolasco the worst offseason signing to this point? The vote here is yes, but here are five other candidates.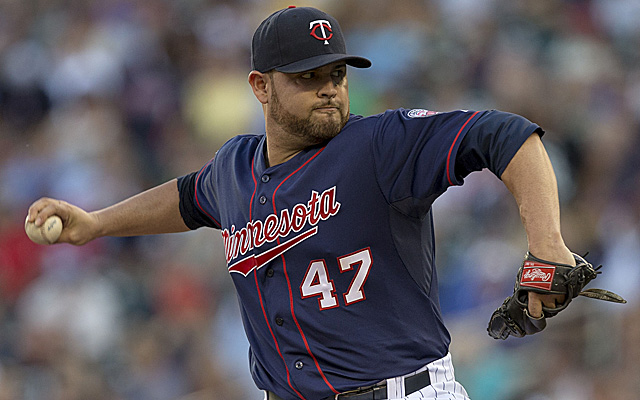 More MLB: Power Rankings | Expert Picks | Latest news & notes | Fantasy news
Minnesota Twins "ace" Ricky Nolasco was placed on the disabled list Tuesday, and it was likely met with a collective "good riddance" from Minneapolis and some of the surrounding area.
The word "ace" above is in quotes because Nolasco was signed this past offseason to a four-year, $49 million deal to anchor their rotation and got the nod to start on opening day. Bear in mind, last season the Twins' starting rotation had the worst ERA in the majors at 5.26. So Nolasco was brought in to be part of the solution.
Instead, he's a major part of the problem as the Twins entered Tuesday's action with the worst rotation ERA in the American League (only the Colorado Rockies were worse if including the NL, too).
Among 93 qualified starters -- that is, those who have as many innings pitched as their team does games played -- Nolasco ranks last in ERA (5.90), 92nd in WHIP (1.62), last in earned runs allowed and last in hits allowed. Only six have allowed more home runs.
We could go on, but that's unnecessary piling on. He's been awful. In fact, Nolasco has to be the biggest bust to this point from last winter's free agency class.
Now, it's with a gigantic caveat that we do something like this. With a four-year deal, it's entirely possible Nolasco comes back with three strong years and makes this season an aberration. If that's the case, this will, in hindsight, end up a very good deal. Take Jayson Werth as a great recent example of someone who can turn things around after a bad start on a contract.
So by no means are we saying this list will remain the same for the length of these contracts. This is an "up until now" and "these look like busts to this point" type thing.
For comparison's sake, here are five more to this point/possible busts. Feel free to rank one of the below guys ahead of Nolasco, but to this point they are all fighting for second place for me.
Brian McCann , New York Yankees : Five years and $85 million was McCann's take as he fled Atlanta for the Bronx. He entered Tuesday hitting .230/.289/.379 with 10 homers and 38 RBI. And there's already a media storm, as the New York Post has a story in which McCann's former hitting coach Terry Pendleton said "New York is not Brian," among other things. Yes, reporters going into the locker room at a Mets game to ask about Yankees players. Welcome to the Big Apple, indeed, Brian.
Ubaldo Jimenez , Baltimore Orioles : He hung around for a while on the market, but eventually landed with Baltimore for four years and $50 million. He's 3-8 with a 4.52 ERA (88 ERA+) through 18 starts.
Carlos Beltran , Yankees: Yes, he's been hampered by an injury, but he's 37 years old and has had knee problems for years. The Yankees still gave him $45 million for three seasons.
Curtis Granderson , New York Mets : That one-year, $8 million deal for Nelson Cruz looks pretty good right now, no? Granderson signed for four years and $60 million. It's definitely worth mention that Grandy is pretty hot right now and could well already be playing himself out of the conversation here.
A.J. Pierzynski , Boston Red Sox : Prior to Tuesday, Pierzynski was hitting .254/.286/.348 on perhaps the most disappointing team in all of baseball. Considering how great everything went for the Red Sox in 2013, it's by virtue of Jarrod Saltalamacchia signing elsewhere for just three years and $21 million that lands Pierzynski on this list. He is on a one-year deal worth $8.25 million.
Rock on, East.
So, again, I'd go with Nolasco for now while being totally up front that things could change on any deal -- even the ones that already look great, so long as they are longer-term.