R.I.P., 2013 Los Angeles Angels of Anaheim
For the fourth straight year, the Angels are not going to the postseason. Let's look back at their season.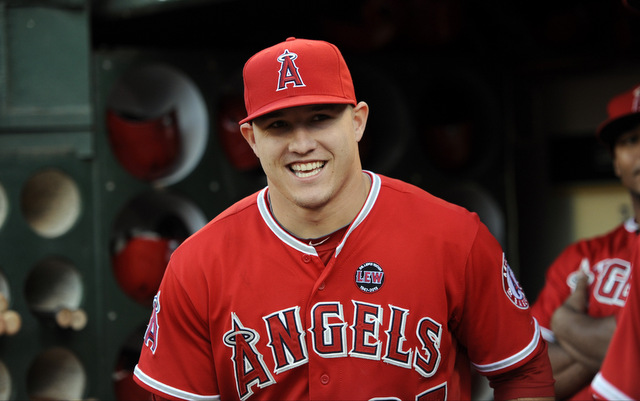 RIPs: Astros | Marlins | White Sox | Cubs | Brewers | Mets | Giants | Rockies | Twins | Phillies | Padres | Mariners | Blue Jays | Diamondbacks
Despite spending another couple hundred million bucks in the offseason, the Angels had another season end in disappointment. They were officially eliminated from the postseason race on Saturday and will go back to the drawing board this winter. Let's pay our last respects.
What went right
First and foremost, Mike Trout proved that his historic rookie season was no fluke (181 OPS+ and 9.1 WAR in 2013). Not that many people thought he was a fluke, but he was so preposterously good in 2012 that it was fair to think his performance would take a step back in 2013. It didn't. Trout is the best all-around player in the world and the franchise's undisputed cornerstone.
Aside from that, not a whole lot went right for the Halos. Both Howie Kendrick (118 OPS+) and C.J. Wilson (112 ERA+) bounced back from down 2012 seasons. Right-hander Garrett Richards moved back and forth between the rotation and bullpen, but he's settled in of late and has a 3.63 ERA in 15 starts. Some rookies -- outfielder Kole Calhoun (130 OPS+ in 50 games) and righty Dane De La Rosa (128 ERA+ in 70 innings), in particular -- have impressed when given opportunities. That's pretty much it.
What went wrong
For starters, Albert Pujols and Josh Hamilton. Pujols, who still has eight years and $212 million left on his contract, put up a career-low 116 OPS+ in 99 games. Foot and knee problems forced him to start more games at DH (65) than first base (34) and ended his season in late July. Brutal. Hamilton stayed healthy but has put up a weak 105 OPS+ in the first year of his five-year, $125 million contract. That's an awful lot of dough for good but not great production.
There's also the pitching. Jered Weaver (112 ERA+) has been limited to only 23 starts because of a broken left (non-pitching) elbow. Offseason pick-ups Joe Blanton (62 ERA+) and Tommy Hanson (68 ERA+) were both total disasters while Jerome Williams (83 ERA+) and Jason Vargas (88 ERA+) were adequate at best. Free agent relievers Sean Burnett and Ryan Madson combined for 9 2/3 innings (all by Burnett) due to elbow injuries. All told, the Angels staff has a 4.22 ERA, the fourth worst in the league.
MVP: Trout, hands down.
LVP: It would be easy to trash Pujols or Hamilton, but it has to be Blanton. At -2.0 WAR, he was the fourth worst pitcher in all of baseball this season. He should send Wade Davis, Barry Zito and Edinson Volquez a thank you card.
Free agents to be: LHP Jason Vargas. That's it.
Gameplan heading into the offseason
Priority number one this winter has to be establishing a power structure. There is reportedly tension between long-time manager Mike Scioscia and second-year GM Jerry DiPoto, so owner Arte Moreno has to figure out a way for the two to co-exist. If that doesn't work, he has to figure out which of the two is more replacemable. (Hint: It's the manager.)
Once that's done, the Angels need to hoard some pitching. Starters and relievers. Figuring out a way to keep Pujols healthy and get Hamilton out of his funk is high on the list as well. It would also behoove them to explore a long-term contract with Trout. Would ten years and $150 million catch his his attention? Probably. Would he take that? Probably not.
Ridiculously premature prediction for 2014
I'm going to go out on a bit of a limb and say Scioscia will be replaced even though he is still under contract through 2018. I think there's some manager fatigue setting in. It happens to everyone; voices are bound to get stale after so much time on the job. With a new manager and some new arms, the Halos will be something more than a pushover in 2014 but still fail to make the postseason.
deGrom is set to become a free agent after the 2020 season

Perkins missed most of the last two seasons due to injury

Jonathan Singleton was suspended after a third positive test for a drug of abuse
Rodriguez will join Jessica Mendoza and Matt Vasgersian on the "Sunday Night Baseball" boo...

Jeff Wilpon talked about payroll on Tuesday, and it won't make any Mets fan happy

Yelich's agent recently asked the Marlins to trade him before the spring