R.I.P., 2013 Minnesota Twins
The Twins were mathematically eliminated from playoff contention Friday night, so it's R.I.P. time.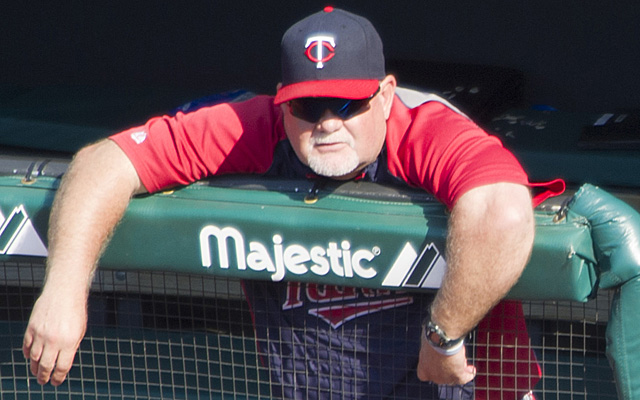 RIPs: Astros | Marlins | White Sox | Cubs | Brewers | Mets | Giants | Rockies
When the Twins lost to the Rays Friday night, they were officially, mathematically eliminated from the 2013 playoff picture. Let us eulogize.
What went right
Well, Joe Mauer is still an awesome hitter. Glen Perkins is a real good closer, too. Otherwise, not much went right for these Minnesota Twins at the big-league level. If we wanted to dig rather deeply, we could include the power flashed by Brian Dozier and rookie Oswaldo Arica showing some promise at the plate.
What went wrong
The Twins are bad at almost everything. They entered Saturday ranking 14th in the AL in runs scored and ERA. Though they don't make a ton of errors, advanced defensive metrics showed them anywhere from average to terrible on defense. The starting pitching, though, is a special kind of pathetic. The Twins' rotation ERA is 5.07, easily the worst in the majors.
Meanwhile, several individuals failed to meet expectations. Josh Willingham took a big step back from his 2012 season, Trevor Plouffe 's home run barrage last June continues to appear a fluke, Aaron Hicks' rookie season was a bust and Chris Parmelee disappointed again. Kyle Gibson was the Twins' top pitching prospect -- at least at the upper levels of the minors -- entering the season and he's 2-4 with a 6.53 ERA through 10 starts.
MVP: Mauer. It's not particularly close, either.
LVP: Former general manager Bill Smith couldn't have possibly left the cupboard more bare in terms of starting pitching. Terry Ryan took back over after the 2011 season, yes, but he hasn't had sufficient time to rebuild the big-league pitching staff yet. I'm actually OK with lumping Ryan in here, too, considering he attempted to patchwork the rotation with the likes of Kevin Correia and Mike Pelfrey . Ultimately, this bad team is all on the men running the show.
Free agents to be: SP Mike Pelfrey
Gameplan heading into the offseason
Though I noted above that pretty much everything about this team is bad, the Twins' minor-league system is unbelievably stocked with position-playing talent. Multiple outlets have ranked the Twins as having the best system in baseball, actually -- and while they have good arms like Alex Meyer, most of the top prospects (Byron Buxton, Miguel Sano, et al) are position players. So it's all about starting pitching.
From the sounds of things, the Twins may be spending some money on the free agent market. A reunion with Matt Garza would make sense, but the Twins may get bid out of the market there. Some mid-level arms: Scott Feldman , Ubaldo Jimenez , Jason Vargas , Paul Maholm and Dan Haren . Maybe sign two of those guys instead of spending huge on one? I also wonder about high-upside guys who could be had on the cheap like Josh Johnson or Tim Lincecum .
Also, there's no reason to hang onto Willingham or Ryan Doumit , who each have one year left on their respective contracts. Deal them for mid-level pitching prospects.
Finally, I believe it's time to get Joe Mauer away from catching permanently. I don't care if he's overpaid as a first baseman. His contract is already signed and there's no going back there, but more harm could be done if he continues to catch and take foul balls off the mask.
Ridiculously premature prediction for 2014
Thanks to the White Sox, the Twins again avoid last place. Otherwise it's still a waiting game as the club looks to make sure the future pitching staff can be as good as the soon-to-be-stacked lineup.