Rival GM: Phillies asking for 'the world' in return for Cole Hamels
No surprise, Philly is looking for a steep return for star lefty Cole Hamels.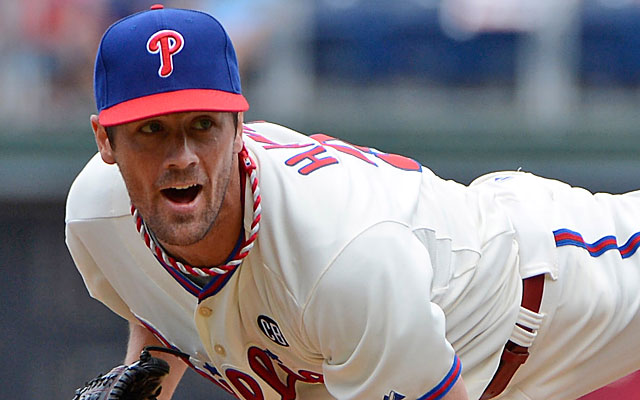 More MLB: Power Rankings | Expert Picks | Latest news & notes | Fantasy news
While Phillies star left-hander Cole Hamels remains technically available on the trade market, a rival GM put it this way: "They want the world."
The Phillies have to at least listen on Hamels considering their issues in dealing other big-salaried players and the clear need to begin to retool. But they obviously aren't eager, based on asking prices being heard.
Hamels, 5-5 with a 2.72 ERA this season, has $105 million to go on his $144 million, six-year deal through 2018. There is a $20 million option in 2019, and a $6 million buyout.
Hamels was said in this space to be "barely available," and that really hasn't changed. They would trade him, but only for a haul.
While Hamels has a 20-team no-trade list, he also has been frustrated by the Phillies' recent performance, so he may be accepting of some deals.
Philly has found no market for Ryan Howard or Cliff Lee (who could both pass through waivers and be traded in August, potentially), and limited interest in Jonathan Papelbon and A.J. Burnett. Papelbon has expressed an interest in being traded.
Burnett has a player option for 2015 that could be worth $12.75 million, discouraging teams, while Papelbon has a vesting option for 2016 that could be sticky, as it vests with 100 games finished this year and next, or 55 games finished in '15.
Papelbon and Burnett, like Howard and Lee, are trade candidates for August, as well, since they are unlikely to be claimed on waivers.