Rivals wonder if OF glut could cause Cards to trade Adams or Craig
Top outfield prospect Oscar Taveras is viewed as a likely summer callup, and folks are wondering what St. Louis will do with all its outfielders.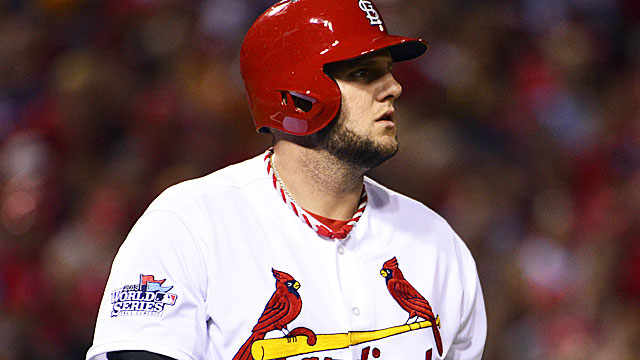 Speculation among rival teams is beginning that the Cardinals may possess a glut of outfielders once top prospect Oscar Taveras is promoted, possibly by sometime this summer, leading to the possibility they could trade an established outfielder or hitter, perhaps even Matt Adams or Allen Craig.
This could be partly a case of wishful thinking on the part of competing teams, but Taveras' vast potential and a slower-than-expected start by what seems like a stacked Cardinals lineup has interested teams wondering whether the Cardinals, who are probably somewhat disappointed to be only 18-17, could make a move to find room for Taveras, one of baseball's best hitting prospect, if not the very best one.
"I'm not going to get into who we might trade, but we can't rule out anything as the trade deadline approaches," Cardinals general manager John Mozeliak said.
It's a delicate balancing act for a team with vast talent, and as Mozeliak allowed, they are "continually trying to create playing opportunities."
The two names opponents are focused on appear to be that of Craig and Adams, two good hitters off to divergent starts. Adams is batting .321, but one rival GM noted that the Cardinals have in the past seemed to show at least some willingness to include Adams in "the right trade." (translation: not for a small price)
Craig would seem initially to be an even less likely trade candidate, as he hit .300-plus in his first two full seasons and led the league in batting average with runners in scoring position both years (.454 last year, .400 the year before). But this year's started much differently; Craig is in a 2-for-20 slump, dropping his average to an uncharacteristic .202.
The Cardinals haven't necessarily been opposed to adding to their depth and working on creating those playing opportunities, as they did this winter by acquiring center fielder Peter Bourjos and second baseman Mark Ellis. But with four starting-calibre outfielders already on the roster, it's natural for opponents to wonder where they find room for the 21-year-old wunderkind Taveras.
Taveras is batting .298 with an .855 OPS at Triple-A Memphis. But he's also still only 21, and with an ankle injury limiting his time his first year at Triple-A in 2013, as Mozeliak pointed out, "There is time to evaluate."
Taveras is getting time now in center field, so it's also possible the excess could be in the center of the diamond. Jay is batting .256 and Bourjos .217. Veteran star left fielder Matt Holliday, who has a big contract, no-trade provision and huge clubhouse value, would seem to be the one outfielder who isn't a candidate for trade.
With all the good names, and the Cardinals' notoriously patient approach, no move will likely be made out of desperation.
"We still believe in our outfield being one of the strengths of our team," Mozeliak said. "They're off to a slow start, but we're not ready to hit the panic button."
Fowler suffered a knee injury at Chicago's Guaranteed Rate Field

The lefty starter is coming off a terrible season

After acquiring Ian Kinsler and Zack Cozart in recent days, the Angels are trending upward
Cozart's coming off a big season as the Reds' shortstop

The veteran slugger spent the last eight seasons with Cleveland

The Padres may be poised for an active winter