Rivera's blown save saved Ike Davis and Ruben Tejada from Triple-A
Ike Davis and Ruben Tejada were on the verge of being sent to Triple-A until Mariano Rivera's blown save on Tuesday night.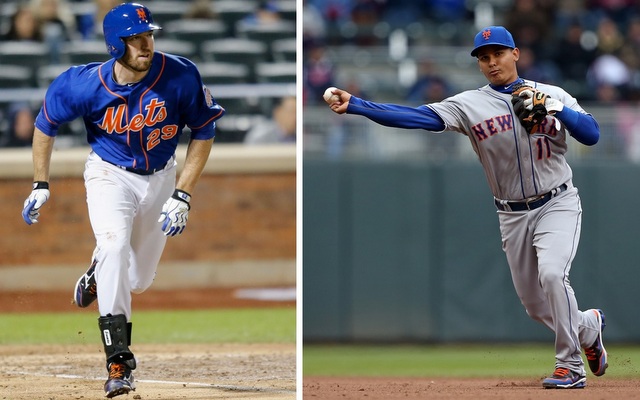 More MLB: Scoreboard | Standings | Probable Pitchers | Sortable Stats | Odds
Mariano Rivera blew his first save of the season on Tuesday night, as the Mets mounted a remarkable three-hit, two-run, zero-out rally against the all-world closer. As it turns out, the blown save actually saved the jobs of Ike Davis and Ruben Tejada. Andy Martino of the New York Daily News reports the Mets were prepared to send both players to Triple-A following what felt like an inevitable loss:
To understand how this story was drawn out another day, let's break down what happened on Tuesday night.  When Rivera began the ninth inning 18-for-18 in save opportunities, the rest of the night seemed scripted. The Mets would lose to the greatest closer of all time, and according to two people with knowledge of the events announce afterward that Davis and Tejada were being optioned to the minor leagues. The decision had been made. The two were gone.

Then, a thrilling and unlikely rally ensued. Mets players danced all over the field, smiled and laughed in the clubhouse, and celebrated the highest high of a low season.  Team officials gathered and debated -- hotly, we're told -- whether they could still execute the plan to demote Davis and Tejada.

After much discussion, club brass decided that it would be too deflating to banish two popular players on that night.  Who wants to pull the needle of the record during the best party of the year? Instead, a group including Terry Collins, Sandy Alderson and John Ricco met with Davis and Tejada in Collins' office, and informed them that a demotion could be near. 
Davis, 26, came into Wednesday's game hitting .152/.237/.241 with four home runs in 177 plate appearances. He probably should have been demoted last week. The 23-year-old Tejada was hitting .209/.269/.264 before injuring his quad on Wednesday. He's looking at a DL stint rather than a Triple-A stint now.
The Mets are being very indecisive here. The decision to keep or demote a player should not change on a day-to-day basis, and it certainly shouldn't change based on something other than the player's performance -- neither Davis nor Tejada played a role in the comeback win over Rivera. The Mets need to stop dragging this whole thing out and just pull the trigger. They made the decision to send both guys down, now actually do it.