Road to AL West title -- maybe wild cards, too -- runs through Houston
How bad are the Astros? They are so bad the rest of the AL West is licking its chops. So bad the Oakland A's are in first place because of them. So bad I couldn't even write a full column about them. So keep reading beyond the first item and we'll get to Mother Nature, Terry Francona's seniority in Cleveland, Felix Hernandez and, yes, more Dodgers-Padres brawl fallout.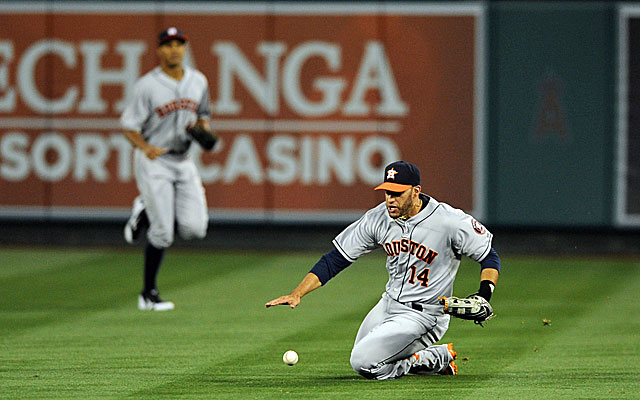 This goes down as a fielder's choice in your scorecard. …
The Houston Roadkills: Know when all hell is going to break loose and the integrity of the game is going to be hotly questioned where this reprehensible Astros situation is concerned?
When the Yankees, or Red Sox, or Rays look up during the stretch run and realize both wild card teams will emerge from the AL West this year.
Because of the unbalanced schedule, the other four AL West clubs get to patronize the Astros more often than a Little League team does the local neighborhood McDonald's.
And because the rebuilding Astros aren't even trying in 2013, AL West rivals should gobble them up over 19 games each like those deep-fried mechanically separated chicken parts affectionately known as McNuggets.
Already, the first-place Athletics are showing us how it's done. Bob Melvin's team is 12-4, a record buoyed by a 6-0 mark against the Astros. Talk about ugly, ugly games.
Oakland has a plus-26 run differential against the Astros, outscoring them 45-19.
In those games, Houston batters have struck out a staggering 57 times (against Oakland's 32). And Athletics hitters have walked an astounding 33 times (against Houston's 11).
Not only are the 4-11 Astros as non-competitive as predicted, they appear to have a Death Wish along with it. The most jaw-dropping moment in the game this month came when manager Bo Porter allowed Bud Norris to throw 122 pitches in the fifth game of the season -- one of the games in Houston's debacle against Oakland. Then Lucas Harrell threw 112 the very next night -- also against the A's.
At this rate, good luck to the Astros trading Norris at midseason. He may not have an arm left by then. As it is, he lasted just 46 pitches against Oakland on Wednesday night, getting pummeled for six earned runs and five hits while walking three in only two-thirds of an inning.
It is becoming more clear by the day that the road to the AL West title leads straight through Houston. As in, whoever beats up on the punchless Astros more than everyone else.
It's also pretty clear the AL West has an increasingly appetizing route to the wild-card slots, too. Both of them.
Rain, snow and Mr. Freeze: The most dangerous part about baseball's new realignment that produced at least one interleague game every night always was going to be Mother Nature. And so far she ain't cooperating.
The problem comes when a team has only one trip into an opponent's city, which increases the urgency that all three of those games are played without any postponements. The unbalanced schedule and interleague play combine to produce more of these one-off series.
The Mets and Twins could not play Sunday's game in Minnesota, which will force the Mets to shoehorn in a one-game stopover in the Twin Cities later this season. Same with the Angels and Twins when Wednesday's game was postponed. And the Mets also must return to Denver for a one-game makeup against the Rockies later this season, and the Yankees have to go back to Cleveland for one game.
If spring and summer do not show up soon, this year's schedule is going to turn ugly very quickly.
2013 is the new 2003: Quick, check out the AL East, it's just like old times (or, close): The Red Sox are in first place and the Yankees are in second. Weren't the doomsday scenarios supposed to be taking shape by now?
Doesn't Tito get a gold watch or something? With the Cavaliers cashiering Byron Scott on Thursday nearly four months after the Browns fired coach Pat Shurmur, that leaves, yes, Terry Francona -- hired in October -- as the longest-tenured coach/manager of Cleveland's three major professional sports teams.
The King and His K's: Though he came away with a no-decision in Wednesday night's 14-inning marathon 2-1 loss to the Tigers, Seattle's Felix Hernandez was brilliant over eight innings, striking out 12 and walking none.
Business as usual? No, but close for King Felix: It was the fifth time in his career that Hernandez has whiffed at least 12 without walking a batter.
Noted research hound (and esteemed colleague) Danny Knobler looked it up, and only five other pitchers fanned at least 12 and walked none in a game more than Hernandez's five times: Randy Johnson (15), Roger Clemens (12), Pedro Martinez (11), Curt Schilling (10) and Sandy Koufax (6). Mike Mussina and Javier Vazquez also did it five times apiece.
The Ol' Brawl Game: Emotions were ratcheted way back when the Dodgers and Padres met in Los Angeles this week, which was not surprising being that Carlos Quentin is on sabbatical (eight-game suspension) and Zack Greinke (fractured left collarbone) will not be pitching again until June.
Backup Padres catcher John Baker spoke with several Dodgers during the series after they accused him of mocking Greinke's injury from the dugout last Thursday night, and Mark Ellis, Carl Crawford and Jerry Hairston Jr. (among others) told him they know he wasn't.
In fact, Hairston Jr., who received a one-game suspension for trying to get at Baker in the dugout during the melee, gave the catcher a friendly nod and tap on his shin guard with the bat before his first plate appearance Monday night.
"It was a positive experience," Baker says. "It happened, and we've moved on."
Question now is, will they keep moving on? Emotions will change immediately next time they meet with Quentin in the Padres' lineup, and Padres president and CEO Tom Garfinkel's ill-advised comparison of Greinke and Rain Man in what was supposed to have been a private meeting with season ticketholders won't help, either.
Plus, file this one away for future reference: Padres batters now have been hit with five pitches by Dodgers pitchers so far this season, and zero by any other opponent.
In fact, following his home run Wednesday night, Kyle Blanks was drilled in each of his next two plate appearances (J.P. Howell and Kenley Jansen). Hmmm …
Sabathia will reportedly spend a 10th season in the Bronx

Fowler suffered a knee injury at Chicago's Guaranteed Rate Field

The lefty starter is coming off a terrible season
After acquiring Ian Kinsler and Zack Cozart in recent days, the Angels are trending upward

Cozart's coming off a big season as the Reds' shortstop

The veteran slugger spent the last eight seasons with Cleveland