Robinson Cano upset at A's accusation he was stealing signs
A's catcher Derek Norris thought Robinson Cano was stealing signs in extra innings Thursday, but apparently it wasn't working as the Yankees didn't score in the last 17 innings played.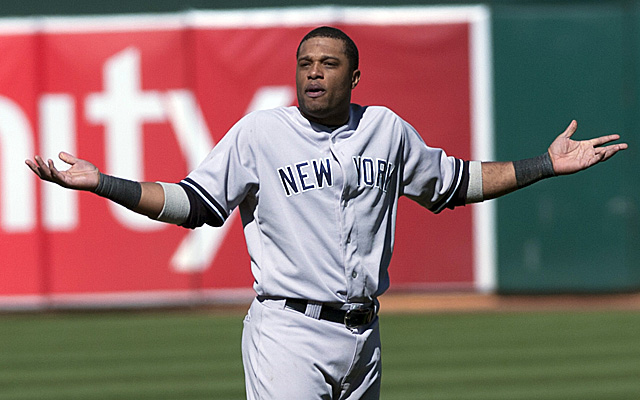 More MLB: Scoreboard | Standings | Probable Pitchers | Sortable Stats | Odds
During the 13th inning of the Yankees' 18-inning loss to the Athletics Thursday afternoon/night, Yankees second baseman Robinson Cano verbally sparred with A's catcher Derek Norris briefly. After the game, Cano said Norris accused him of stealing signs, and he was none too pleased with the accusation.
"It was the catcher talking," Cano told MLB.com. "He said that I was giving signs. When he first said something, he came to the mound and had his mask on. And then after that, they struck out Vernon [Wells] and I said, 'Throw the ball over the plate,' you know what I mean?"
Cano went 3 for 6 with two doubles and a homer, but part of Norris' accusations were that Cano was "relaying pitches or locations to Yankees' hitters" in extra innings.
If that's the case, Cano sucks at it. Like, really sucks.
The Yankees scored on Cano's two-run homer in the first inning and then went 17 innings without scoring a single run. They collectively went 10 for 60 (.167) with 15 strikeouts in the game, as A's relief pitchers combined to allow five hits in nine shutout innings of work in extra innings.
If Cano is removed from the equation, the Yankees went 7 for 54 (.130) with zero RBI in an 18-inning game.
So, basically, if Cano was relaying signs to his teammates, opposing teams should probably allow it to continue to happen.