Robinson Cano's lack of hustle might be a good thing
When it comes to Robinson Cano's habit of taking it easy down the line, consider the alternative.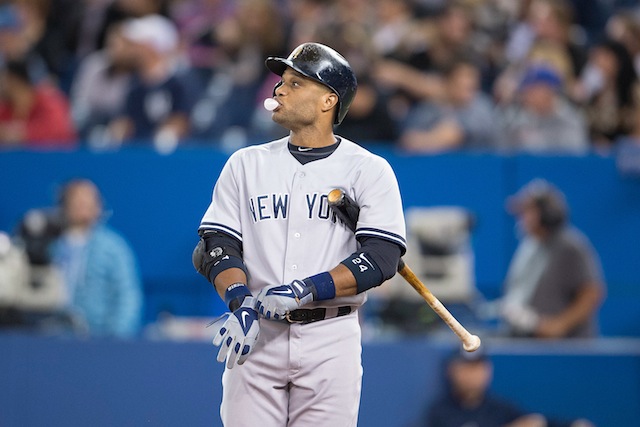 MORE: FA tracker: position players | FA tracker: pitchers
As you may be aware, Robinson Cano's rather conspicuous lack of hustle is in the news again. Cano's former hitting coach, Kevin Long of the Yankees, recently had this to say to John Harper of the New York Daily News on the subject of Cano's leisured ways out of the box:
"We all talked to him. I'm pretty sure Jeter talked to him a number of times. Even if you run at 80%, no one's going to say anything. But when you jog down the line, even if it doesn't come into play 98% of the time, it creates a perception.

"It's too bad because Robbie cared a lot. By his last year here he was becoming a leader in the clubhouse. He went out of his way to talk to some of the younger guys, and he helped them.

"But he just wouldn't make that choice to run hard all the time. The reasons aren't going to make sense. He might say his legs didn't feel good, or he was playing every day and needed to save his energy. To me there was no acceptable answer."
From there, matters ballooned. Mariners manager Lloyd McClendon, Cano's new skipper, fired back at Long (source: Jerry Crasnick, ESPN.com), and then Yanks GM Brian Cashman emphasized that he never had any issues with Cano's hustle or lack thereof (Wallace Matthews via Twitter). 
The real matter, though, is whether Cano hurt his team by not hustling down the line to first base. To state the obvious, hustling is a very good thing and a habit that should be instilled in ballplayers from the earliest possible instant. Let there be no question about that. 
As well, a chronic lack of effort running to first does indeed exact a price, as you'd expect. Ben Lindbergh of Baseball Prospectus recently estimated that Cano's jogs to first cost the Yankees roughly 14 runs over the course of his career there. Of course -- and as Lindbergh notes this -- it's entirely possible that Cano's habit of taking it easy after hitting what seemed to him to be a routine grounder or pop-up was in the service of self-preservation. As you see above, Long himself said that Cano explained his actions by referencing leg discomfort or pointing to the need to stay fresh for the six-month regular season. 
The alternative, of course, is that Cano is lazy and uninterested in making the most fundamental of efforts. Personally, I find this to be highly unlikely. Here's another comment from Long in that same Daily News piece:
"He overcame so much while he was here. As a young kid there were holes everywhere. There were holes in his swing, in his makeup, in his body composition. This kid grew and grew and grew.

"All the other stuff … he'd take plays off in the field, he'd give away at-bats in RBI situations. He made a lot of personal decisions to get over the hump in those areas. People don't know how hard he worked, how many times he was the one asking me to do extra work in the cage."
These words paint an entirely different portrait -- one of a player who developed a work ethic and a force of will in his early days as a pro. Cano, after all, is a player who methodically worked to improve from a defensive liability to a Gold Glove winner at an up-the-middle position. This is also a player who has missed a total of 14 games since the start of 2007 season. Does any of that sound like a "layabout" kind of ballplayer?
I'd submit that it's in part Cano's "calculated" manner of taking it easy that's allowed him to be so durable despite manning a position that's known for its attrition rates ... 
What you see above is but one anecdotal data point, but it speaks to the larger point, and the larger point is that Cano may believe it's best for him to take a play off on occasion in order to be in the lineup in late September and the postseason. Consider taking his time on a double-play ball struck by the glacial Jose Molina to be the fielding equivalent of not running out a routine grounder to the right side -- the outcome likely won't be affected, and the chances of getting hurt are lessened. 
In fact, the last time Cano missed significant time because of injury was way back yonder in June of 2006 when he lost 35 games to a hamstring strain -- i.e., the exact kind of malady he's likely trying to avoid by pumping his brakes every now and then. 
To be sure, sprinting down the line and letting your hat take to wing like Willie Mays makes for great optics and is bound to improve your reputation with fans. But if Cano's legs are such that doing so would significantly increase his odds of wrenching something important (and Cano himself would be the best authority on that subject), then is it worth it? Is a reached-on-error every couple of weeks a good trade if it may mean five or six weeks on the DL with a pull or a strain? Of course not. 
There's of course no guarantee that Cano would hurt himself if he went all out at all times, and any player who is capable of hustling without significantly increasing his risk for injury should by all means hustle. Again, though, I see little evidence in the many other facets of his game that Cano is simply unwilling to put forth effort out of rank indolence. 
To frame it another way, I'm guessing, say, the Nationals wouldn't mind terribly much if Bryce Harper learned a little from Cano when it comes to knowing when maximum effort is worth the risk that max effort entails.
The World Series champions aren't complacent

Stanton swiped at his old team on his way out

Matt Harvey could be on his way out of New York
The Nationals are looking to improve on the edges of their roster

Ellsbury is due at least $68 million over the next three seasons

Your one-stop shop for all things MLB Winter Meetings-related