Rockies acquire Brett Anderson from Athletics for two players
The Rockies have added a high-upside but risky left-hander in Brett Anderson via trade with the Athletics.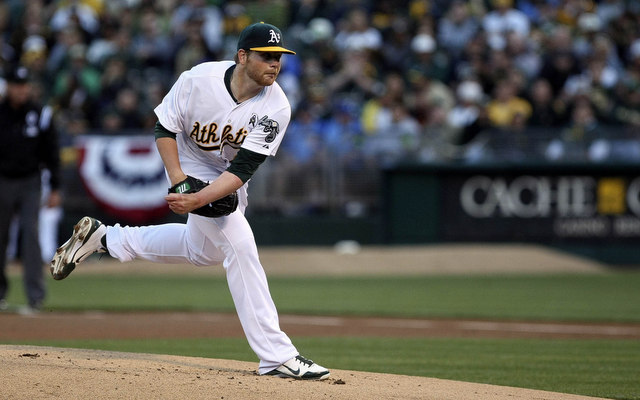 MORE: FA tracker: position players | FA tracker: pitchers | Winter Meetings updates
The Rockies have acquired left-hander Brett Anderson and cash from the Athletics for left-hander Drew Pomeranz and minor league right-hander Chris Jensen, both teams announced. Jon Heyman of CBSSports.com said Colorado will received $2 million in the deal.
Anderson, 25, had a 6.04 ERA (62 ERA+) in 44 2/3 innings across five starts and 11 relief appearances in 2013. He missed almost four months with a right ankle sprain. The A's picked up Anderson's $8 million club option for 2014 a few weeks ago and were able to deal him because of their rotation depth.
The Rockies are hoping they get the 2009-11 version of Anderson, when he pitched to a 3.66 ERA (115 ERA+) with a 3.11 K/BB in 62 starts. Injuries have sidelined him in recent years, including an elbow strain (2010), Tommy John surgery (2011-12), an oblique strain (2012) and the ankle sprain.
Pomeranz, 25, has a 5.20 ERA (89 ERA+) in 136 2/3 innings across three seasons for the Rockies, who originally acquired him from the Indians in the Ubaldo Jimenez trade. Pomeranz does not have good numbers outside Coors Field (6.20 ERA) but he has dominated lefties (17 OPS+). The A's should be able to find a use for him.
Jensen, 23, went 5-8 with a 4.55 ERA and 3.49 K/BB in 28 starts and 152 1/3 innings for Colorado's High Class-A affiliate in 2013. The University of San Diego product was drafted in the sixth round of the 2011 draft.