Rockies announce front office shakeup, O'Dowd keeps job
The Rockies have elevated assistant general manager Bill Geivett to senior vice president and shifted the duties of general manager Dan O'Dowd to focus more on player development and the minors. But Geivett still reports to O'Dowd.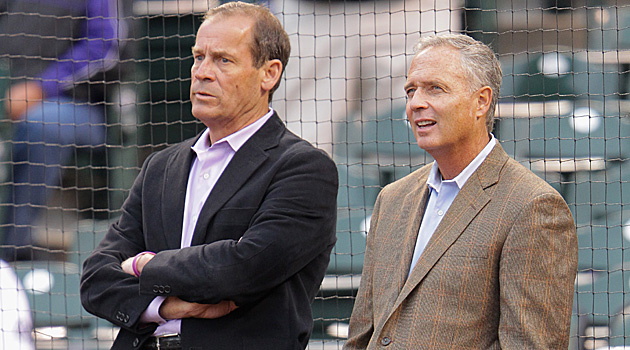 Colorado owner Monfort (left) still won't fire O'Dowd (right). (Getty Images)
Considering how much of an abomination this season has been, it wouldn't have been surprising in the least to see Rockies general manager Dan O'Dowd lose his job. So when the Rockies sent out a press release announcing a new senior vice president of major league operations, I assumed Dan O'Dowd had been fired. That's not the case.
The Rockies instead announced that Bill Geivett has been named to the aforementioned position. He will, however, still report to O'Dowd, who retains the titles executive vice president, chief baseball officer and general manager.
Geivett will oversee "day-to-day operations" of the big-league Rockies.
"With his extensive experience in professional baseball both on the field and in the front office, Bill Geivett is the perfect fit for this new position," Rockies owner Dick Monfort said in a statement. "We are constantly looking for ways to improve our organization, and we feel that Bill's influence and leadership on a daily basis is an important addition to our Major League club."
Geivett had previously been the assistant general manager since 2005.
The Denver Post reports that O'Dowd will now focus more on player development and the minor leagues.
Overall, this is a change but it seems like a rather minor one. At the end of the day it is still the same two guys running the Rockies, with the same one ultimately in charge.

Marcell Ozuna figures to be the next Marlins star on the move

Several relievers have signed in the last two days

Several teams are interested in the switch-hitting first baseman
Neshek and the Phillies are closing on a two-year contract

And the team that first drafted Cole is interested

This scout was SUPER into Jeter