Rockies attack Padres with weedwacker, reclaim EOB title
How badly did the Rockies want to win back the Eye On Baseball Heavyweight Championship from the Padres? Very badly.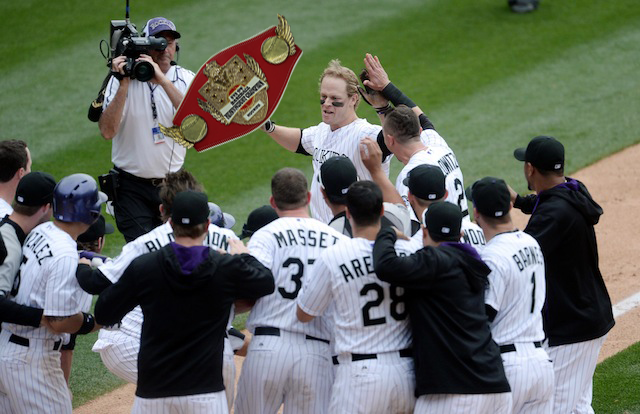 More MLB: Power Rankings | Expert Picks | Latest news & notes | Fantasy news
On Sunday, the Rockies vanquished the title-holding Padres in sinister fashion to take two out of three in the series and in doing so reclaimed the Eye On Baseball Heavyweight Championship. 
Wait, the "Eye On Baseball Heavyweight Championship"? What's that? That, friends, is this ...
The Eye On Baseball Heavyweight Championship, inspired by the valorous glories of professional wrestling, is back for a second season.

The defending World Series champ starts the regular season with the belt. From there, here are our rules.

1. A team must win a series from the champion to take the belt. One game isn't going to cut it, considering it's a 162-game season and teams all view the season in terms of series.

2. If the belt-holder splits a series (two- or four-game series), it retains. Much like on a draw in boxing or a count-out situation in pro wrestling, you don't get the belt unless you actually beat the champion. A tie isn't good enough.

3. If, at the end of the regular season, the belt-holder does not make the playoffs -- and due to the dynamics of this thing, that scenario is entirely plausible -- said team will be stripped of the title for not qualifying for the postseason. Then the winner of the playoffs -- the World Series -- takes the belt and the title into the offseason.
So how did the Rockies claim both belt and title for the second time this season? As mentioned, it was by black-hearted means. Check out these official MLB game highlights ...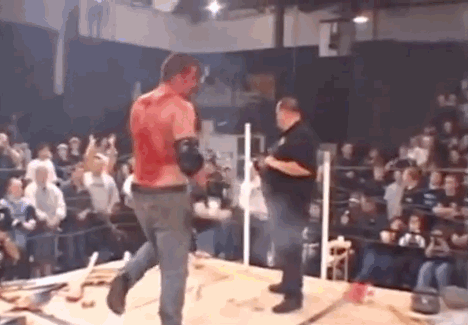 Lo, not only the did the Rockies, in clear violation of accepted practices, use a weedwacker during the title bout, but -- as you can clearly see above -- manager Walt Weiss also poured salt on the Padres' wounds in the most non-metaphorical of senses. Such is the intoxicating power of the The One Belt to Rule Them All. 
And now let us cast unworthy eyes upon our Roll Call of Champions ... 
| Eye On Baseball Heavyweight Champion | 2014 title reign |
| --- | --- |
| | March 31 - April 4 |
| | April 5 - April 14 |
| | April 15 - April 23 |
| | April 24 - May 2 |
| | May 3 - May 10 |
| | May 11 - May 14 |
| | May 15 - May 17 |
| | May 18 - Present |
Next up for the freshly re-minted champs? A three-game home set against the hellbent Giants. At stake? The Eye On Baseball Heavyweight Championship ... 
The Mets didn't want to trade a young outfielder for an older one

Josh Harrison doesn't sound pleased Gerrit Cole and Andrew McCutchen have been traded away

The team's media contracts expire following the 2019 season
San Francisco could use more help in the outfield and at the back of the rotation

The White Sox, Athletics, Orioles and Marlins are the holdouts after the Blue Jays and Angels...

Molina's deal expires after the 2020 season