Rockies exercise 2014 option for lefty Jorge De La Rosa
The Rockies have officially retained one of their top starters by picking up the $11 million club option in Jorge De La Rosa's contract.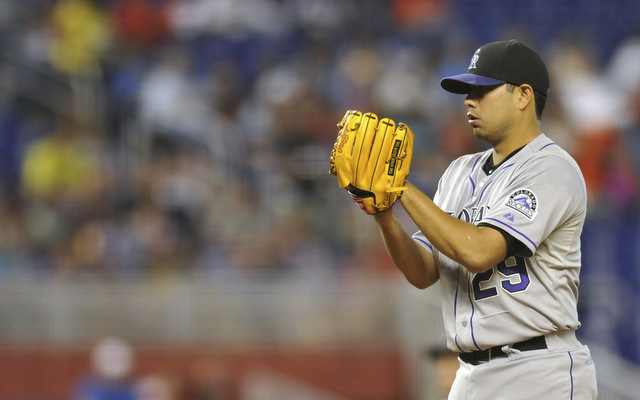 As expected, the Rockies announced they have officially exercised their 2014 club option for left-hander Jorge De La Rosa. He will earn $11 million next season and become a free agent next winter.
De La Rosa, 32, went 16-6 with a 3.49 ERA (127 ERA+) and 1.38 WHIP in 167 2/3 innings across 30 starts in 2013. He managed to allow only 11 home runs despite pitching half his games in Coors Field. That's rather impressive.
Colorado signed De La Rosa to a two-year contract worth $21.25 million following the 2010 season, but he made just 10 starts in 2011 before blowing out his elbow and requiring Tommy John surgery. He made three starts late in 2012 before exercising an $11 million player option for 2013.
In parts of six seasons for the Rockies, De La Rosa has gone 55-34 with a 4.23 ERA (109 ERA+) and 8.1 K/9 in 674 innings. His strikeout rate (6.0 K/9) was way down in 2013, however. He pitched for the Brewers and Royals earlier in his career.
De La Rosa joins the underrated Jhoulys Chacin to form a rock solid 1-2 punch atop Colorado's rotation. A healthy Tyler Chatwood would make a fine No. 3 starter, but filling out the rest of the staff could be a challenge.
Get 15 percent off any order of more than $75 at CBS Sports Shop

Get your sports fans something that they'll wear all year

No, you're not imagining things. This MLB offseason has been very slow compared to the last...
Francesa will retire from radio next month, so he'll have plenty of free time next summer

The Twins need help in the rotation, and they may look to the trade market to find arms

Here are the bullet-points of what went down Tuesday regarding MLB and the Braves' punishm...