Rockies' Giambi activated, says he wants to play in 2013
Nearing his 42nd birthday, former MVP Jason Giambi isn't ready to retire, he says.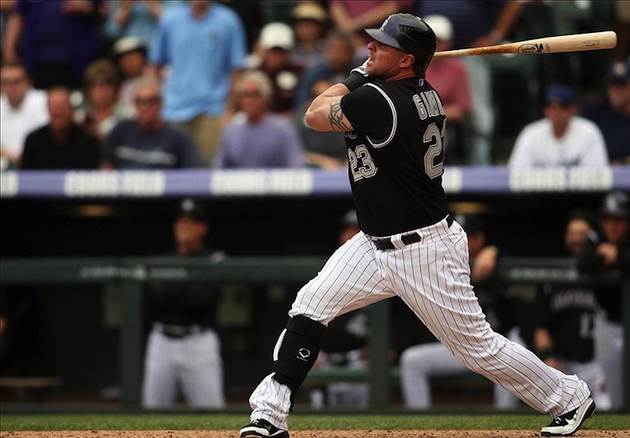 Jason Giambi's lone home run of 2012 was a walk-off in May. (US Presswire)
Jason Giambi wants to play in a 19th season, but finding a taker may be the tough part.
The former MVP will be 42 in January and has played in just 47 games for the Rockies this season, mostly as a pinch hitter. Giambi started 12 games at first base and six as a DH. Overall, he's hit .241/.380/.329 with just one home run in 100 plate appearances. Last season he hit 13 home runs in just 152 plate appearances.
"I feel like I can still play this game," Giambi told Patrick Saunders of the Denver Post. "I swung the bat well when I was down there [on a minor-league rehab assignment], and I felt like I was hitting well up here before I got sick."
Giambi missed 35 games with what the team called a "viral syndrome." Giambi played five rehab games between Double-A Tulsa and Triple-A Colorado Springs. He was 5 for 13 with a double in those games.
The Rockies activated Giambi on Saturday and manager Jim Tracy said he'll be used mostly as a pinch hitter in the final month of the season. That's a role he's done well in this season, hitting .273/.429/.409 in 28 plate appearances off the bench, and his lone homer came in that role.
At this point, a pinch-hitting specialist may be the extend of Giambi's abilities. If his power of 2010 returns, he could DH, though. He hasn't played more than 63 games in the field since 2008, his last season with the Yankees.
For more baseball news, rumors and analysis, follow @EyeOnBaseball on Twitter, subscribe to the RSS feed and "like" us on Facebook.
Maxwell joins a growing movement across sports

The Yankees punched their ticket to the playoffs with a win over the Blue Jays on Saturday

Sabathia's stance seems to be an increasingly popular one among athletes
Plus the A's and Brewers have hope, Giancarlo goes deep again, and much more

Matt Chapman and Matt Olson give the A's hope

Despite an awful month, the Dodgers are again NL West champions